As opposed as I am to hot temperatures, it does bring on the season of wonderful, homegrown, vine-ripened tomatoes.
Red, yellow, orange, heirloom, cherry, beefsteak.  No matter what the variety, I LOVE tomatoes!
And when I saw Andrea's recipe for Rustic Tomato Tart, that also included a cornmeal crust, I was smitten!  Andrea blogs over at Adventures In All Things Food.  And the title doesn't come close to telling you how great her blog is, how many wonderful recipes she has, and what a fabulous person she is.  Andrea and I have been in the Secret Recipe Club together for a very long time and I have always loved her blog, and her pictures, and her step-by-step instructions.  She can make anything look easy and delicious.  If you haven't checked out her website, well, it's certainly time you did.  Crafts, giveaways, product reviews, and so much more!  And, did I mention awesome recipes?!?!
This recipe is one not to be missed!  Even Mountain Man said, "This is something I could eat and eat again!"  He EVEN said, "This could be eaten for a meal with a salad."
WHA ? ? ? ?
This guy feels like he needs some meat at every meal.
I think it would also be great with four eggs cracked on top and baked right along with the rest of the tart.  Perfect breakfast or brunch idea.  And I can't begin to comprehend how good other veggies would be with the basic ingredients of the tart.
OK, I've raved and rambled on long enough.  But, really, this is FABULOUS!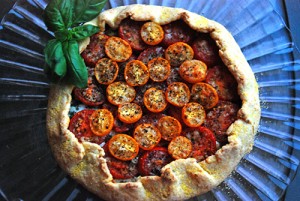 Rustic Summer Tomato Tart
Author:
Suzanne Collier, Adapted from Adventures In All Things Food
Recipe type:
Easy and Delicious
Cuisine:
Home Grown Summer
Prep time:
Cook time:
Total time:
Don't miss this one! For all of those gorgeous summer tomatoes, this dish will be a hit with everyone in your home. Breakfast, brunch, lunch or dinner, you can't go wrong! They will love you forever!!
Ingredients
Fresh tomatoes, about 1.5lbs I used Campari and yellow cherry tomatoes.
1½ teaspoons salt, divided
1 cup fresh corn kernels (about 2 ears)
1 tablespoon fresh lemon juice
3 tablespoons sour cream
1½ cups all-purpose flour
¼ cup yellow cornmeal
¼ cup chilled butter, cut into small pieces
1 tablespoon yellow cornmeal
½ cup thinly sliced fresh basil, divided
⅓ cup shredded mozzarella and Parmesan cheese mixed
1 tsp chopped fresh oregano
2 tablespoons all-purpose flour
½ teaspoon cracked black pepper
Instructions
First slice your tomatoes into ½" slices. If you are using cherry tomatoes, just slice in half. Place tomatoes on a paper towel and press gently with another paper towel to remove excess moisture. Set aside.
Combine corn, sour cream and lemon juice in the food processor. Process until it is smooth. Set aside.
In a separate bowl combine 1½ c. of the flour, ¼ c. of cornmeal and ½ tsp. salt. Whisk to combine.
Cut in your butter with two knives or a pastry cutter until you have a coarse meal mixture.
Add the corn mixture to the meal and gently knead a few turns till you have dough that sticks together.
Lay out a long sheet of plastic wrap and place dough ball in the center of it. Then fold over the other side on top of the dough ball. Using a rolling pin, roll the dough into a 12" circle, keeping the dough even across the circle. Lift the plastic wrap with the dough and place on a cooking sheet. The put into the freezer for about 10 minutes while you prepare the rest of the tart.
Preheat oven to 400F degrees.
In a medium bowl combine the cheese, basil, oregano, 2 Tbsp. of flour and ½ tsp. salt. Mix.
Once your dough has chilled for 10 minutes, take it out, sprinkle cookie sheet with a layer of corn meal, and place the dough on the cookie sheet.
Spread the cheese mixture over the dough within about 2" of the edge all the way around.
Place tomatoes on top of the cheese mixture.
Sprinkle with more grated Parmesan and fresh cracked pepper.
Bake in the oven for about 45 minutes, or until you see just a bit of browning happen on the crust.
Remove from the oven and let cool for about 10 minutes. Cut into slices and serve.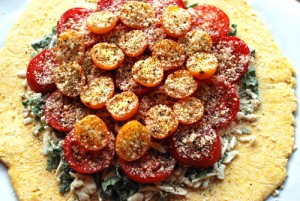 I can't emphasize enough how good this is.  It's easy, delicious, and will impress your family, your friends, and YOU!
Loading InLinkz ...