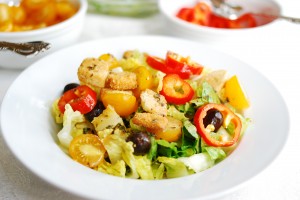 How many times have you started to fix a big, beautiful salad and realized that: 1.  Some people don't like tomatoes 2.  Some people really want tomatoes 3.  Half of the people love anchovies 4.  Half of the people hate anchovies 5.  No olives, please 6.  How many different kinds of olives do you have?  I want them all! 7.  Love cheese on my salad 8.  Don't do dairy of any kind Just about the only thing that everyone can agree on is that Romaine Lettuce is good. (Although there was a time that Mountain Man thought that the only good lettuce was Iceberg, cut very, very thin like his mama fixes it. . . . . ) I digress. My assignment for this month's Secret Recipe Club was none other than the famous Maria who is the author of the blog, Staying  Close To Home.  Maria isn't just a food blogger, you can find all kinds of things on her blog from product reviews to how to create and decorate a custom pet food container.  She has 3 absolutely gorgeous children, a handsome husband, a cat and a simply beautiful Golden Retriever.  If I could describe Maria's blog in only a couple of words, I would say it is "diverse but simple, in a down-to-earth kinda way.  My kind of lady!! She has lots of great recipes and I really struggled trying to decide what to make.  But then my family wanted pizza. They know better than to think I would make one from scratch, but if we order take out from our favorite Italian place, then what better to go with that pizza than a great salad.  And an even better salad dressing!! I just about refuse to buy commercially bottled salad dressing these days.  First, I have thyroid disease.  Hashimoto's, to be specific.  One of the worst foods for me is ANYTHING soy.  Seems that soy products can interfere with the absorption rate of my medication.  And I have such a hard time keeping my thyroid hormones where they should be, that the last thing I need is to contribute to the problem. Have you looked at the ingredients in a bottle of salad dressing?!?!  The main ingredient, in most, is vegetable oil.  No, doesn't that sound harmless.  I mean, how bad can vegetable oil be for you, right?  Well, vegetable oil is just a nice name for "soy oil".  Yep, 100% soy.  Great.  Exactly what I don't need.  And with how many other medications does it cause problems?  I think that answer is, "Who knows?"  That being said, I am always on the lookout for new and delicious salad dressings because we eat a lot of fresh salads. But no one in my family likes everything but the kitchen sink in their salad.  Two don't eat tomatoes. Two don't eat olives.  One is trying to lay off the dairy because of allergy issues, and doesn't eat cucumbers because "they don't like" him.  Some like bell peppers, while others don't.  I could go on and on, but I think you get the picture. While we could all agree on the pizza – one cheese and one Hawaiian, no one is going to eat the same things in their salad.  And I really don't like to serve boring salads with just lettuce.  So, on pizza night, I served a Make-Your-Own-Salad with Maria's homemade salad dressing, Greek Salad Dressing.  And, guess what?!?!  EVERYONE loved the dressing!  They made the salad of their choice and chowed down on the pizza. Life is good. And the Greek Salad Dressing was exceptionally delicious!  You are going to love this one!  Thanks so much, Maria, for making our salad very special.  This one is a keeper, for sure.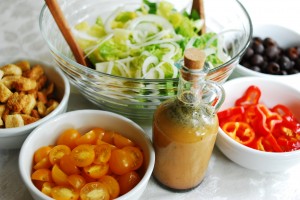 Re-Constructed Creamy Greek Salad Dressing
Author:
Suzanne Collier, adapted from Staying Close To Home
Recipe type:
Salad Dressing
This is an easy, very tasty vinaigrette that will make even the simplest of salads memorable for your family and your guests.
Ingredients
¾ cup Extra Virgin Olive Oil
1 c. Red Wine Vinegar
2 tsp fresh minced Garlic
2 tsp dried Parsley
2 tsp dried Basil
1½ tsp fresh cracked Black Pepper
1½ tsp Pink Himalayan Salt
1 tsp Onion Powder
1 tsp Sweet Paprika
1 tsp Yellow Mustard
1 Tbsp Greek Yogurt
Instructions
Combine all ingredients in a medium sized bowl.
Whisk all ingredients until thoroughly blended.
Serve with your favorite green salad and enjoy!!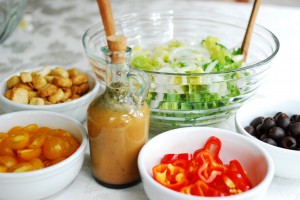 Loading InLinkz ...