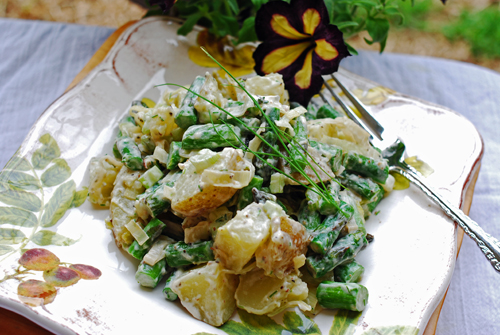 I realize it isn't summer yet.  Heck, it's barely spring.  In the 80s here this week, snowing in other parts of the country.  So, how about we make the best of the weather with the best of spring and summer all rolled into one fabulous salad?
The asparagus at the market is just perfect.  And I LOVE asparagus.  I realize not everyone does, but when I saw this recipe in my Secret Recipe Club partner's blog, I knew I had found the perfect dish for a springtime picnic.  For those of us enjoying those spring temps now, go on out and make this and go on that picnic pronto!  For those who still have snow on the ground, just look what you have to look forward to!  In fact, go ahead and make this and serve it at your next meal.  Just to get you in the mood.
But wait, before you run off, check out my partner's blog, A Spoonful of Thyme, and all the rest of the fabulous recipes that Kate has on her blog.  Just for a teaser or two . . .  Sweet Mustard Shrimp, Capellini with Shrimp and Creamy Tomato Sauce,  and her Tequila Lime Chicken.  And I've already decided that MY next recipe of Kate's is her German Potato Salad.  If one potato salad is fabulous, then the second one must be out of this world, right?!?!  I just LOVE her personal philosophy.  "I truly believe that there is always "thyme" to cook and sit down as a family for the evening meal. Cooking is a wonderful way to bring family and friends together to enjoy food and each other. With a good recipe and "a spoonful of thyme" wonderful things can happen!"
Thanks, Kate, for a wonderful recipe!!  I loved getting to know you and your blog.
Roasted Asparagus Potato Salad
Prep time:
Cook time:
Total time:
This is one of THE best potato salad recipes I've ever made. All of the elements you want in a potato salad, yet delightfully different. It will be a new family favorite!
Ingredients
2 Tbsp Extra Virgin Olive Oil
2 Leeks, white and light green parts, thinly sliced and rinsed
2 pounds Yukon Gold Potatoes, cleaned, rinsed and cubed into about 1" pieces
2 stalks Celery, rinsed, patted dry, chopped
1 pound fresh Asparagus
½ tsp fresh Thyme, chopped
2 Tbsp fresh Chives, chopped
¼ cup Mayonnaise or Greek Yogurt
2 Tbsp Dill Pickle Relish
1 Tbsp Dijon Mustard
2 Tbsp Apple Cider Vinegar
Pink Himalayan Sea Salt
Fresh Ground Black Pepper
Instructions
Preheat oven to 425F degrees.
Trim off tough ends of asparagus. Rinse, pat dry and lay flat in a 9X13 pan. Drizzle with a tablespoon of olive oil, salt and pepper.
Bake for 12 minutes.
Remove from oven and let cool.
Slice asparagus into about 1" pieces
Slice and clean leeks. Pat dry.
In a medium saute' pan, heat the other tablespoon of olive oil on medium heat. Allow leeks to brown slightly, stirring occasionally. Remove from heat.
In a 4qt saucepan, place potatoes into generously salted water.
Bring to boil, then reduce to a simmering boil and cover potatoes.
When you can push a fork through the potatoes, remove from heat, drain off water, and then cover with cold water to stop the cooking process. Drain water off of potatoes again and pour into large mixing bowl.
Add celery and asparagus to the potatoes.
Mix thyme, chives, mayo, relish, mustard, and vinegar together in small bowl. Whisk together until smooth then pour over the potato mixture.
Toss gently until dressing is thoroughly incorporated.
Garnish with more chives, if desired. Chill and serve!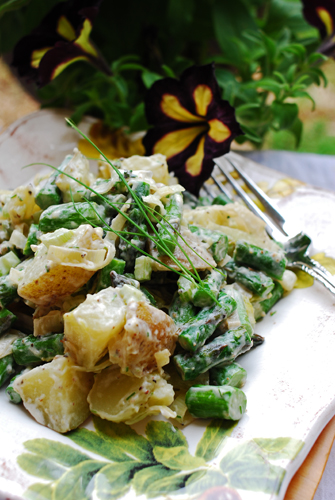 This is SUCH a simple and delicious potato salad and will please even your picky eaters!  I added a little feta cheese to my serving, but left it out of the recipe because my husband doesn't really care for it.  If I were to add it to the whole recipe, I would probably use about 1/2 cup.  I also think it would be good with sweet pickle relish or NO pickle relish.  Up to you!
By the way, that is a black and yellow petunia in the background of the pictures.  I've never seen anything like it before!  Had to have them!!
Loading InLinkz ...