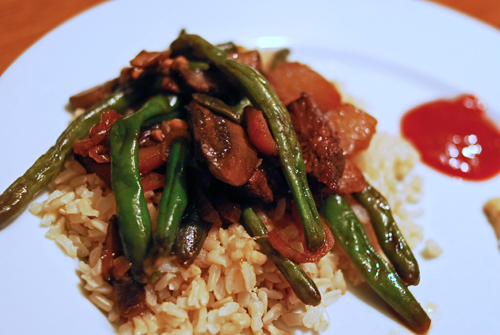 What happens when you have a terrible craving for Chinese food and there isn't a decent Chinese food place to be found? Necessity is the Mother of Invention and yes, that makes me The Mother.
Shut it.
You know who you are.
I have to say that this is probably as good as it gets for us. Great flavor, easy to put together, and oh – did I mention I made it from leftovers? *insert evil laughter* . . . . . Even better!
The recipe makes enough for 4, easily. It made 2 large portions on 2 different nights for us. It was just as good, if not better, leftover. I love leftovers!
The leftovers that I started with was a grilled flat iron steak, cooked medium to medium rare – about 3/4 of a pound. I sliced the steak into about 1″ cubes and set them aside. So, if you don't have about a pound of leftover steak, then go out and grill a steak first, before you start this recipe. Then, we'll go from there. The grilling will save a lot of calories in this recipe by not frying the meat in oil.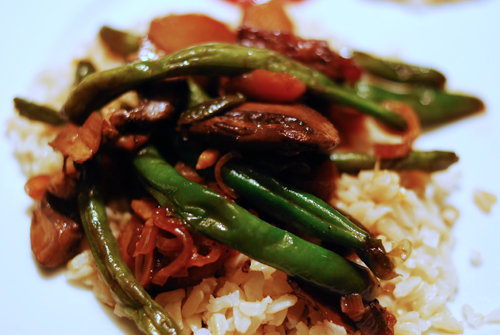 Mongolian Beef Suzanne Style
Recipe type:
Family style; easy
Prep time:
Cook time:
Total time:
This is going to knock your socks off! Great flavors come together and create a delicious satisfying family-style meal that the whole family will love.
Ingredients
1lb grilled Flat Iron Steak, medium rare
1 C of uncooked Brown Rice, cooked according to package directions
2 Tbsp Coconut Oil
3 large Spring Onions, sliced
½ tsp minced fresh Ginger
1 Tbsp minced fresh Garlic
½ C Soy Sauce
½ C Water
1 tsp Corn Starch
⅓ C Molasses
¼ C Brown Sugar
1 Tbsp Srirachi Sauce * optional
2 large handfuls of fresh Green Beans (about 8oz or so)
1 small package of Cremini Mushrooms, cleaned and sliced in ¼" slices
Instructions
First, grill the steak. Medium Rare (it will cook more later). Then slice into 1" cubes and set aside.
Second, while the steak is grilling, prepare the rice. Long-grain rice works best. Remove from heat and set aside.
Put 1 tablespoon of oil in a medium saucepan on medium high heat. Be careful not to smoke or burn oil.
Add the white slices of the spring onion and reserve the sliced green tops for later. Saute for about 1 minute.
Add garlic and ginger and stir into onions. Saute for another 2 minutes.
Mix soy sauce, water, molasses, brown sugar, and cornstarch together in a small bowl, then add to onion mixture. Srirachi sauce, if you desire. Stir and bring to a soft boil for about 3 minutes. The mixture should thicken slightly. Remove from heat. Set aside.
In a large skillet or wok, add another tablespoon of oil and heat oil until it is hot.
Add green beans and mushrooms to skillet and saute until vegetables are a bit browned.
Add in steak cubes and heat them with vegetables for about 3 minutes, stirring about once each minute.
Add sauce mixture and green onion tops to the veggies and meat in the skillet and bring to a boil for 1 minute.
Remove from heat.
Serve beef over rice.
Enjoy!!!!