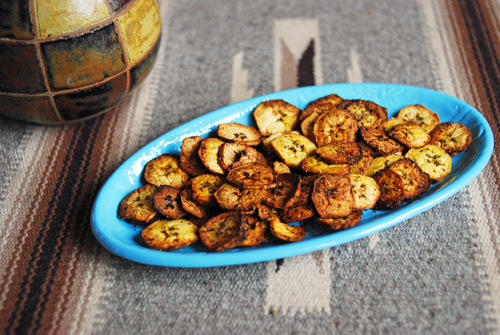 I've been working very hard at trying to simplify my life lately.  It's not an easy job.  Simplification is completely overrated.
Before you can simplify you must simply get rid of clutter.
In your closet.
In your garage.
But most of all, in your mind.
YIKES!
I've been cluttered in that department for a long time.
We went to pick up our co-op fruit and veggies basket the other day. (Trust me, these stories really do go together.  I'll bring it for you shortly.)  Gorgeous lettuce, leeks, oranges, little green apples – fabulous in salads, and . . . . then I saw . . . . the
PLANTAINS?!?!?!
Well, here is MORE clutter.  What to do!  What to do!  The sky is falling!  The sky is falling!
This month for the Secret Recipe Club I was assigned Anne-Marie's blog, This Mama Cooks, and I am sooooo glad she does.  Because she totally simplified my life just a little bit more.  You see, she has recipes for Plantain Chips!  And not just any plantain chips, but delicious, savory and sweet, crunchy and healthy chips!  My life is perfect!!!  (See, I told you I would bring it together for you.)
On her blog is the recipe for Healthy Baked Plantain Chips in four different flavors.  Well, there was no doubt in my mind as to how this was going down.
By the way, there is a LOT more on Anne-Marie's blog than you can shake a stick at.  Or wooden spoon, for that matter.  And you simply must check out her wonderful recipes as there is something for everyone there, I promise!  Whether you are really watching your weight or looking for comfort food, This Mama Cooks has it all.  With drool-worthy pictures to go along with every recipe.
Don't believe me?  Then check it out for yourself!  And, just so you know, these are soooooo good!  Even Mountain Man gave them a big "Thumbs Up"!!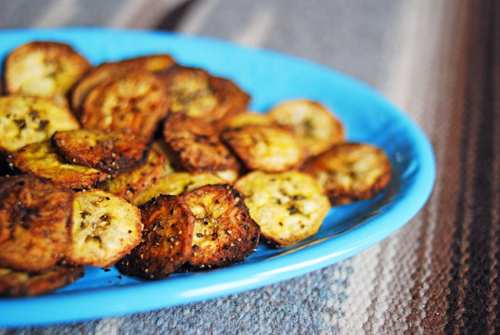 Salt and Pepper Plantain Chips
Author:
Suzanne Collier, adapted from This Mama Cooks
Prep time:
Cook time:
Total time:
This is a great way to satisfy your craving for a little something crunchy and delightfully delicious
Ingredients
1 Green Plantain, peeled and thinly sliced
1 Tbsp Extra Virgin Olive Oil
½ tsp Coarse Black Pepper
¼ tsp Pink Himalayan Garlic Salt
⅛ tsp Onion Powder
Instructions
Preheat oven to 400F
Combine ingredients in a bowl and mix gently.
Place parchment paper on cookie sheet and then place coated plantain chips in a single layer on the sheet.
Bake for about 8 minutes, then remove from oven and turn all of the chips over.
Bake for another 8-12 minutes.
Remove from oven and let cool.
Then enjoy!