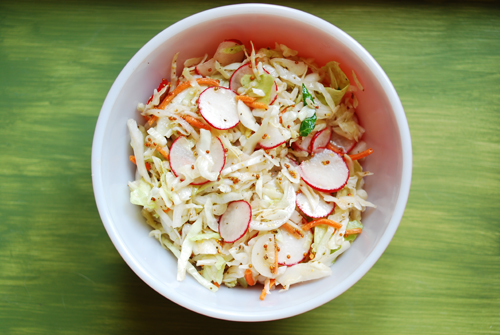 Who doesn't like coleslaw? Come on. A show of hands, please.  Jazz Hands.  Ah-cha-cha-cha-CHA!
(Hey, you – over there – go wash up!)
And, its summer.  Coleslaw only runs a scant second behind potato salad for summer salads and picnic food. I used to think that coleslaw came in one variety. You know, the mayonaisse variety.
Until recently.
One of my favorites has been an Apple Cider Vinegar Slaw that is served at a little fish place that we frequent.
Frequently.
Then I saw a recipe of Christy Jordan's from Southern Plate Magazine and I knew I had fallen deep in love.
This is a jazzy mustard and vinegary kinda slaw that I just know you will love.
I should name this the "Sandy Coleslaw".  She's my cousin and she sings fabulous jazz standards with a jazz band.  She's pretty jazzy, too.
Anyhoo,
Check out my recent recipe for Jazzy Coleslaw.  Made especially for those of you who don't like mayo-type coleslaws.
You know who you are. . . . Kody.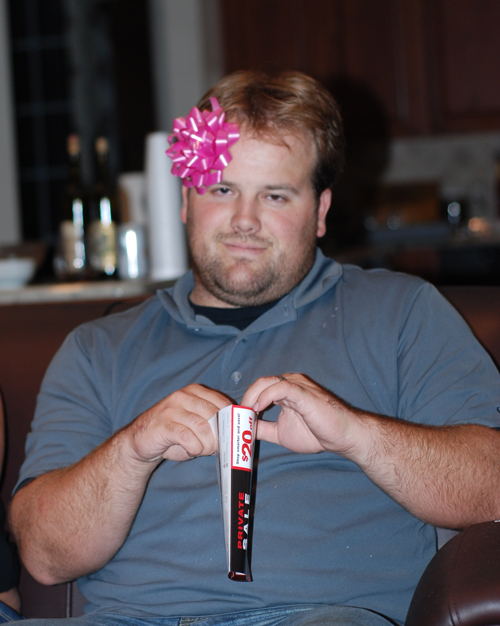 Son-In-Law Kody
I also love my vintage red Pyrex mixing bowl.  I have the set.  Thank you, Momma.

Jazzy Coleslaw
Author:
Suzanne Collier, Adapted from Southern Plate Magazine
For those who do not like a mayo slaw, or when you are just looking for something to jazz up your picnic, this is a fabulous slaw for pork roast or fried chicken.
Ingredients
2 Tbsp Whole Grain Mustard
2 Tbsp White Distilled Vinegar
2 tsp Organic Raw Honey
¼ tsp Celery Seed
¼ tsp Fresh Ground Black Pepper
Pink Himalayan Sea Salt, to taste
3 cups of grated Green Cabbage
¼ cup grated Purple Cabbage
¼ cup grated Carrots
¼ cup finely sliced Radishes
1 2" Spring Green Onion, white only
Instructions
Mix mustard, vinegar, honey, celery seed, pepper, and salt together in a large bowl.
Add the rest of the ingredients to the bowl and toss until all of the slaw is coated. Place in a pretty serving dish and chill in the refrigerator for about an hour before serving.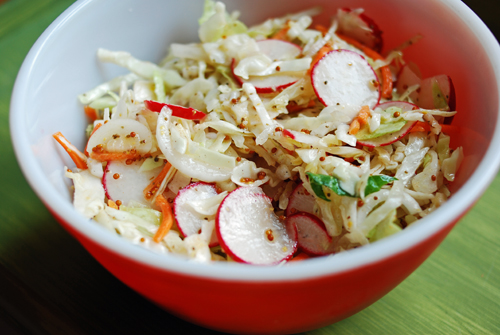 Now, for a little relaxin' with some jazz Louis Armstrong, or maybe some Dave Brubeck . . . yeah.
What A WONDERFUL World!!