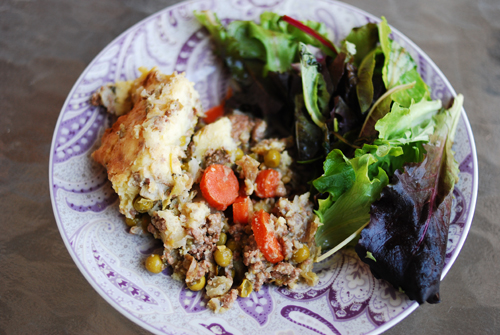 Yep.  Southwestern Irish Cottage Pie.
Not exactly what you were expecting?  You should know by now that THIS is the place to come to where you can least expect the expected.
I know there is a lot of Irish in my genes.  Irish, German, English, Tennesseean, and Texan.  When people meet me, they do NOT think of Leprechauns and four-leafed clovers first.  I guess that's because of my cowgirl boots.
Oh, and I have a slight Texas accent.
Very slight.  Ask Katrina.
When I saw that my Secret Recipe Club assignment for this month was Miz Helen's Country Cottage, I was beyond thrilled.  I love Miz Helen.  She is so sweet and friendly and her blog has lots of really wonderful, down home comfort food recipes.  I knew I was going to feel right at home as I perused her blog for my SRC post.  Then, when I saw her recipe for Irish Cottage Pie, I was there!  Miz Helen served her Irish Cottage Pie with Green Tossed Salad and Spicy Apples with Ice Cream.  Well, my daughter and her husband and our grandson, Kaison, were over at our house to enjoy this meal with us.  My daughter, Jeni, made some Giradelli Brownies and we topped it off with some Blue Bell Vanilla Ice Cream.  Regular, plain Jane vanilla.
I like Vanilla Bean, but no one else does.
I get Vanilla Bean ice cream on my birthday.  Once a year.   *read, poor woe is me*
I digress.
Where was I?  Oh, yes.  Problem is, that I had some Hatch Green Chile calling my name. . .
"What the heck", I thought to myself.  There are no rules saying I can't do this.
And since there are no rules, I had about a cup of green peas in the freezer that I didn't use for another dish.  Insert peas.  Voile'!
And, speaking of rules and since this IS a southwestern kinda thing now, I substituted ground elk for ground beef.  Elk that my husband and his two hunting buddies brought back from New Mexico just this past December.
Be still my heart!
So, without further ado . . .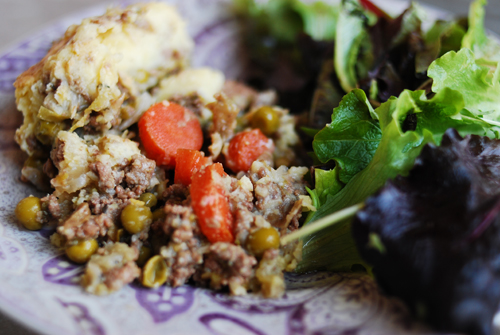 Southwestern Irish Cottage Pie – SRC
Author:
Suzanne Collier, adapted from Miz Helen's Cottage
Cuisine:
Irish, Southwestern, Comfort food
Prep time:
Cook time:
Total time:
This is a great one-pot meal that will satisfy even the pickiest of eaters. Comfort food at it's finest!
Ingredients
1 pound ground Elk
1 medium Onion, chopped
2 cloves Garlic, minced
½ large head of Green Cabbage, chopped
1 cup Hatch Green Chile, chopped
1 cup Green English Peas
1 cup Beef Broth
4 Carrots Sliced
3 medium Irish potatoes, seasoned and mashed
1 Egg
1 tsp Pink Himalayan Salt
1 tsp Black Pepper
1 tsp dried Oregano
1 tsp dried Thyme
2 tsp dried Parsley (fresh would be good, too)
¼ tsp Cumin
Instructions
First cook the potatoes in a large pot of water. Drain potatoes and season. Mash the potatoes and set aside.
Cook the ground elk over medium until done.
Add the onion, garlic, carrots, and chopped cabbage and cook for 5 minutes.
Add Hatch Green Chile and beef broth. Simmer together for 15 minutes.
Add a well beaten egg to the mashed potatoes along with the cumin and mix well.
Spread the mashed potato mixture on top of the elk mixture.
Bake at 375 degrees for 45 minutes, or until the potatoes are slightly brown on top.
BTW, you can substitute some Guinness Stout for the beef broth.  Just sayin'.
We all had huge servings and went back for more.  Probably the most I've eaten at a meal in a year!  If I can find a little willpower, we will have the leftovers and enjoy them equally as much as we did the first time around.  So, although this says it will "Serve 10″, that is not true if you don't have a salad to go with it.  Or if you are a part of my family.  In that case, it will serve 6.  Maybe.
Be sure and stop by Miz Helen's Country Cottage and say hello.  You'll find lots of delicious recipes that you and your family will definitely love.
Sláinte, Y'all!!!!
Oh, and I KNOW you want to see all of the fabulous dishes that everyone else made, so check them out here!!