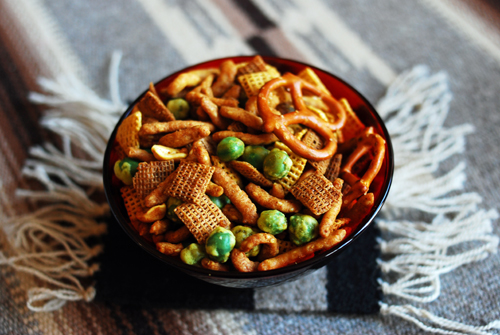 Holy Schamoly!  This is so good!  I'm not going to waste your time by singing the virtues of this snack other than to tell you . . .
It is going to knock your socks off!
You will never be the same after snacking on this!
MaryLoo Who will NEVER be the sweetheart of Junior League again!
Denise over at Eat, Laugh Love is my new BFF!
Denise's Asian Chex Mix is my new favorite Super Bowl snack!
OK, so this recipe is quick, easy, and just down right amazing.  You are just going to have to make it for yourself because, well, mine is ALL gone.  Time to make some more!!

SuperBowl Asian SuperChex Mix!
Recipe type:
Appetizer, Snack
Prep time:
Cook time:
Total time:
Don't rest until you make this snack for your family and friends. They will love you forever. Promise!
Ingredients
Makes 10½-cup servings
2 C Corn Chex
2 C Wheat Chex
4 C Sesame Sticks
2 C Small Pretzel Twists
1½ C Wasabi Peas (4.9 oz can)
1 C Salted Peanuts
4 T Unsalted Butter
1 T Honey
1 Tbsp Curry Powder
1 Tbsp Soy Sauce
1 Tbsp Worcestershire Sauce
1 tsp Garlic Powder
1 tsp OnionPowder
1 tsp Ground Cumin
½ tsp Pink Himalyan Sea Salt
1 tsp Cayenne Pepper
Cooking Spray
Instructions
Preheat oven to 200°.
Combine chex, sesame sticks, pretzels, wasabi peas and peanuts in a large bowl. Set aside.
Melt the butter in a small saucepan over medium heat. Add sugar and remaining ingredients, stirring with a whisk.
Pour butter mixture over cereal mixture, tossing gently to coat.
Spread the mixture into a large roasting pan or jelly roll pan, coated with cooking spray.
Bake at 200° for 45 minutes, stirring a couple of times during the baking time.
After removing from oven, stir again.
Cool completely before serving.
While you're at it, you may as well make a double batch.  Seriously.  It is THAT good.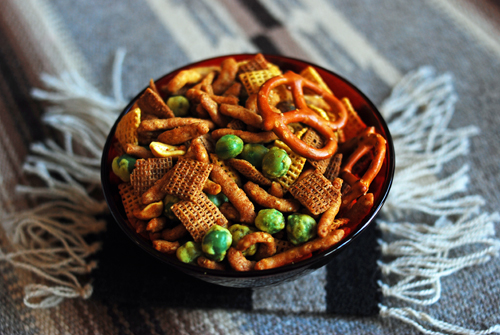 You must check out Denise's blog.  On the same page of her blog with this snack recipe is a recipe for Baked Wontons with Cilantro-Peanut Sauce.  I just bought the wonton wrappers and already have all the other ingredients.  I have about half of a leftover roasted chicken that I am going to use instead of the ground turkey.  These will also be on my Super Bowl eats list, no doubt.  I will report back on those, too.
I know you will love this recipe and love perusing and making many dishes from Eat, Laugh and Love.  When you stop by, please tell Denise that I sent you over to say hello!

To see more of the Secret Recipe Club recipes for this month, check them out here!