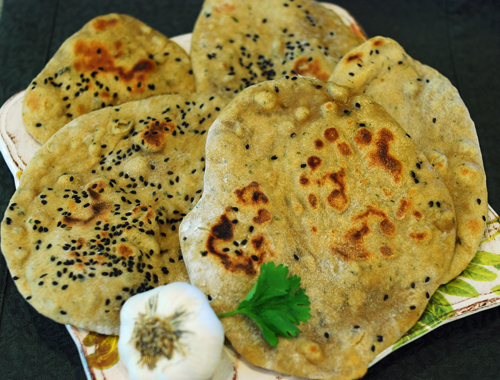 I am NOT a bread maker.  I know, I know.  I just need to practice more.
I made some homemade cinnamon rolls many years ago, for my family.  They were absolutely A-mazing.  Perfect rise, perfect texture, fabulous flavor.  You would have thought I invented bread.  My family was impressed.
I'm still wondering how I did that.
My last attempt was a complete failure and to prove it, I tried to feed them to some friends.  They were kind and said they were good.
They were also liars.  Nice, but liars.
When I found out that Jaysari from Samayalarai had been orphaned for the Secret Recipe Club this month, I felt compelled to adopt her.  You see, the person that had her blog failed to make anything and post it.   Jaysari has fabulous recipes and is a very accomplished baker, cook, and all around kitchen maven.  When I saw that she had some naan I had to make hers.  I have purchased Naan in the past and love using it for homemade pizza crust.  Homemade being relative.  So, when I saw a recipe for Naan in Jaysari's blog, I knew exactly what I was going to make.
Except I don't do bread, right?
Geez, I am a gluten for punishment.  Sorry, couldn't resist.
Here I am trying to help out a fellow blogger and I pick bread?!?!  I've truly gone over the edge.

Garlic Cilantro and Green Chile Naan
Recipe type:
bread, appetizer, pizza, crust
Prep time:
Cook time:
Total time:
This is so quick, easy and makes a great bread for hummus or a quick individual-sized pizza crust. Excellent with soups and stews, too!
Ingredients
½ cup chopped Cilantro Leaves
4 medium Garlic Cloves
2 Tblsp Hatch Green Chiles, chopped
1 tsp Pink Himalayan Sea Salt, finely ground
1 cup all-purpose Flour
1 cup Whole Wheat Flour
1 tsp Baking Powder
¼ cup 0%Fat Greek Yogurt
1 cup +/- water
Black Sesame Seeds
Instructions
In a molcajete or with a mortar and pestle, grind the cilantro, garlic, chiles and salt until it makes a paste.
In a large bowl, mix flours and baking powder together. Add yogurt, your cilantro paste mixture and a little bit of water at a time until the dough forms a ball that is a little bit tacky, but not sticky.
Knead the dough with a bit of additional flour on your counter surface for about 10 minutes. Dampen a tea towel with warm water, wring it out, and place it over the bowl with the dough. Set in a warm, draft-free place for an hour and let the dough rest. (I placed mine inside my oven, just without the heat on.)
After an hour, separate the dough into equal pieces about the size of a large lemon. The dough should be a bit stretchy. Roll into a ball and the roll out on a pastry sheet. Sprinkle the dough with some black sesame seeds and roll them into the dough. Dough should be about ¼ inch thick.
Heat large skillet, cast iron would be good. Test with a sprinkle of water. If the water "dances", the skillet is hot.
place each piece of bread, one at a time, into the skillet and cover with a lid until the dough "puffs up". Then turn the bread over and cook until the other side is brown. Repeat this process with each piece.
To serve, brush with melted butter or olive oil. If using as a pizza crust, no butter or oil is necessary.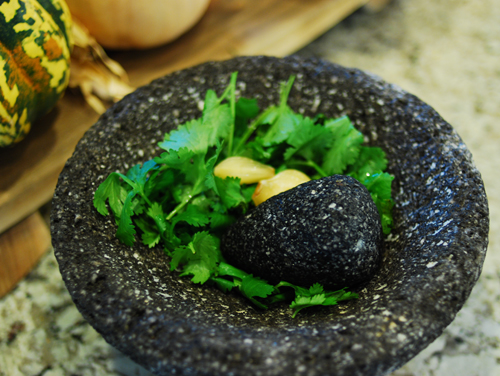 This is a molcajete.  Just fyi.  It is made of volcanic stone and must be seasoned before using.  To season, you can use a bit of rock salt and some garlic cloves and grind, grind, grind until there is no more gray "dust" and all the little holes inside the bowl have been packed with the mixture.  Rinse – do not scrub – and repeat several times.  Be sure and re-season between uses.  It made paste out of the   cilantro mixture quickly!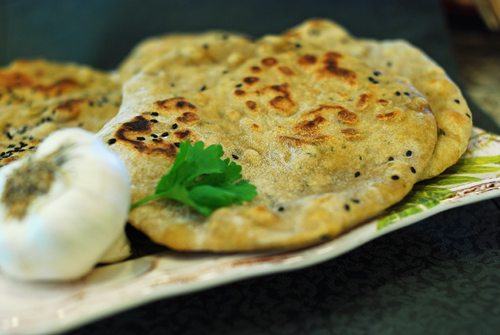 Please stop by Jaysari's blog and show her some love.  You will be so glad you browsed her recipes!  You're in for a treat!
Check out the other Secret Recipe Club posts from this month, too!