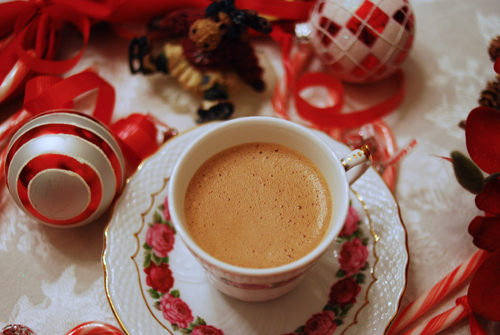 Recently my youngest daughter, Jeni, had gastric bypass surgery. I understand that patients of this surgery must have a lot of protein in a day.  Something that many people take for granted, but that bypass patients can't afford to do without – among other things.  So I've been looking for opportunities to use a good protein powder whenever possible.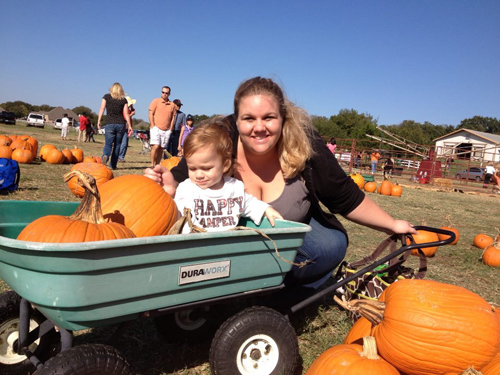 What I find curious about Jeni's surgery is in the past month or so, her sister has made an effort to lose weight and is getting in to clothes that she hasn't worn in years.  I've lost 11 pounds – and holding.  And now my husband is losing.
Jeni is inspirational, to say the least.  She is determined, positive, and happy!  Not to mention she is already down 30+ pounds and still going strong.
One of her favorite things in life is hot chocolate.  I don't mean that she likes it, I mean she LOVES it!  Especially this time of year.  It really gives her that warm and fuzzy feeling.  So, when I saw Amy's recipe on her blog, Amy's Cooking Adventures, I knew exactly what I would be making for this month's Secret Recipe Club.
Amy is not just a great blogger, she is a great mom, wife and cyber-friend.  SHE says she was no "Susie Homemaker".  I don't really know where that term came from, but they were not talking about moi, either.  What she did learn from her mom was how important gathering everyone for at least one meal a day was to a family.  When Amy began to have a family of her own, she buckled down and taught herself to cook so that she could carry on the same tradition and her family would actually WANT to come to the table.  (*queue the laughter*)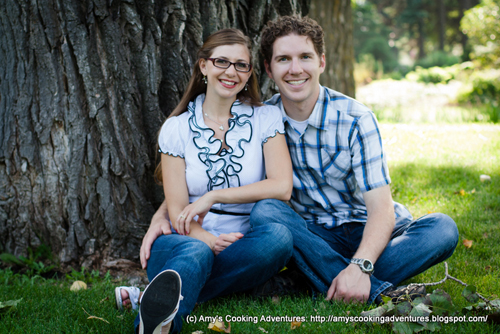 Aren't they a cute, cute couple?!
I have to thank Amy profusely.  Had it not been for her Candy Cane Latte recipe, it would never have occurred to me to use protein powder in a latte.  I haven't told Jeni about this discovery yet.  But when she sees this, I know she will also be thanking Amy.  As will the rest of the family on our journey to be healthier and lose the extra pounds.
Some might say this is a hard time of year to be on a diet.  I say this is the perfect time of year to become more creative, to expand your knowledge, and develop a new lifestyle that you can truly live with – in every sense of the word.  Why wait?
Oh, and speaking of this "time of year", I'm quite sure that Santa is going to fall head over heels for this latte, too.  Just hopefully that isn't before he gets to our house.  And, if I know Santa, he may just make this a spiked latte with a little Bailey's Irish Cream.
Ya, think?  Mrs. Santa will probably join him.

Recipe type:
drink, holiday, fall, winter, hot chocolate
Prep time:
Cook time:
Total time:
Don't just settle for plain hot chocolate this year. Expand your horizons without expanding your waistline with this fabulous, rich and creamy latte.
Ingredients
8 oz skim Milk
3 Hershey Candy Cane Kisses, unwrapped and roughly chopped
1 Tbsp instant Coffee
1 Tbsp powdered Cocoa
2 Tbsp unflavored Protein Powder
1 packet of Truvia
Instructions
In a glass measuring cup that will hold at least one cup of liquid, heat milk in the microwave for 1 ½ to 2 minutes or until the milk is hot and steaming, but not boiling. Stir in the chopped Candy Cane Kisses and coffee. Return to the microwave for an additional 20 seconds.
Stir with a small whisk until the candies are dissolved. Whisk in the protein powder. Drink hot.
Notes
You can also use a shot of strong coffee or espresso instead of the instant coffee. You could also just use 3 Tbsp of chocolate protein powder instead of using cocoa. If you like more of the Candy Cane Kisses flavor, chop up another one or two. You can certainly add the Truvia or use regular or raw sugar or honey instead. And lastly, I still like that Bailey' idea. I may have to run with that next time!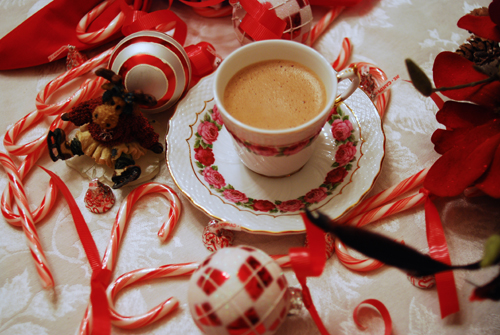 This is a drink that could quickly become a tradition in our house while wrapping presents, decorating the house or trimming the tree.  Or for anytime you want something comforting and warming.  I know you are going to love this latte, however you choose to make it.  And be good.  Very good.
Santa is already making his list and checking it twice.
I've been good ALL year long . . . Yes.  Yes I have.
Nutrition Facts  1 serving
Calories 99; Calories from Fat 23
% Daily Value*
Total Fat  2.6g  4%; Saturated Fat 1.5g  7%; Cholesterol 4mg 1%; Sodium 88mg  4%; Total Carbohydrates 12.5g 4%;
Dietary Fiber 0.9g  4%; Sugars 9.8g;
Protein  7.7g  (about 1/4 of a daily requirement for Jeni)
| | | |
| --- | --- | --- |
| Vitamin A 0% | • | Vitamin C 2% |
| Calcium 17% | • | Iron 3% |
If you would like to see other recipes in this months' SRC, check them out below.