Odd, isn't it?
You meet someone through a mutual  passion or because you like the same things by joining a group of like minds and become fast friends.  Maybe not bosom buddies, but you develop a sense of the person – some of their likes, dislikes, work ethic, sense of humor, their expertise and learn a bit about their families.
Such is, or was, my friendship with Daniel.
We met through a foodie group and ended up that he was in my Group B of the Secret Recipe Club.  Daniel and his wife Meredith blog over at The Haggis and The Herring.  Daniel always prepared something great and was always timely with his blog posts.  He offered to help anyone within any of the groups if they were having difficulties with a technical issue.  He discussed helping everyone by auditing blogs and then targeting issues that would give everyone some great pointers about their own blogs.  Always kind, always helpful, and always straight forward.  My kinda guy – and friend.
He took great admiration and care for his family, his wife Meredith and his two young children and the child they are expecting soon.  You can read Meredith's eulogy and tribute to Daniel here.  It is an amazing and loving look at Daniel and their life together.
In order to pay tribute to Daniel, many of his foodie friends have gotten together today to pay tribute to his life and friendship.  I couldn't resist a couple of his recipes.  I hope you enjoy as much as we did.
What a great way to pay tribute with . . .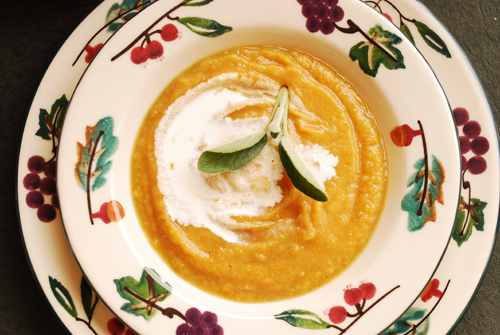 Author:
Adapted by Suzanne Collier
Recipe type:
soup, appetizer
Prep time:
Cook time:
Total time:
This is a light, delicious autumn soup that is very easy to make. It has a very rich taste with lots of depth in flavors. It is now one of my favorites!
Ingredients
1 butternut squash
1 rutabaga
1 medium sized Yukon Gold Potato
15 small, peeled Baby Carrots
2 Celery Stalks (cut in half)
2 c. Vegetable or Chicken Stock
2 tsp Ground Ginger
1 Tbsp Garam Masala
2 Bay Leaves
Water
Milk or Cream
Instructions
Microwave the squash whole for about 2 minutes. Let the squash cool a bit and then peel and cube the squash, rutabaga, potato and carrots.
Put all of the vegetables in a large pot and fill with stock and water until the vegetables are covered and bring to a boil. Add ginger, garam masala and bay leaves and simmer on medium for 45 minutes until soft.
Discard bay leaves and celery.
Puree the rest of the vegetables.
To serve, reheat and add 1 cup of cream and enough stock or water to give the soup a good consistency.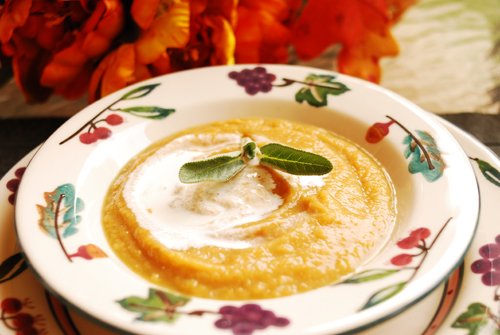 I also fell in love with Daniel's Chicken Croquette recipe, so I made that, too.  And, in my normal style, I used a green chile sauce recipe to accompany the croquettes.  That recipe will be coming up a little later this week.
For Daniel,
There is an emptiness where you once stood in this life.  Your enthusiasm for cooking and your encouragement for others will be missed.  But we celebrate your life and fill the hole that is left with all the great memories you gave each and every one of us.  I have much respect for you and the life you led.  Rest in peace.  Blessings and love to your family.  They will be in my prayers.
May the Lord comfort you with all the mourners of Zion and Jerusalem.
Thanks to Tandy from Lavender and Lime for Daniel's Tribute Day logo.
Please check out the rest of the tributes to Daniel below!