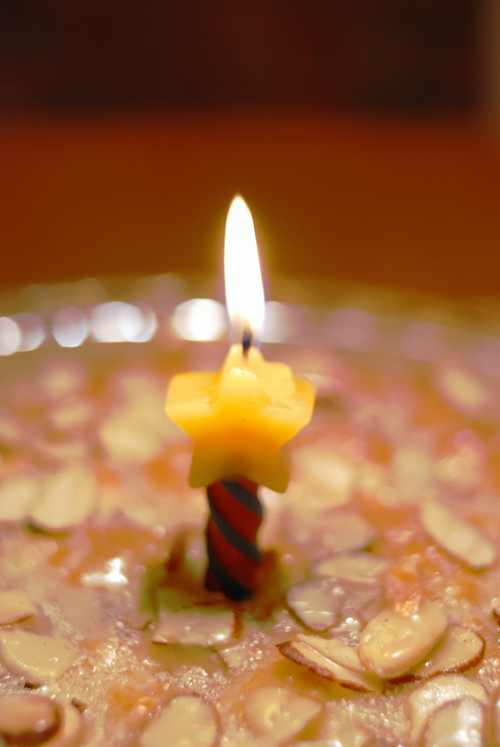 Happy Birthday to You . . .
Happy Birthday TO You . . .
Happy Birthday dear sweet Shelbyyyyyyyy . . . .
Happy Birthday to yyyyyyooooooooOOOUUUUUUUUUUUUU!
And many, many more!
It's Shelby's birthday, if you haven't already figured that out.  If you didn't, then I suggest you head back to bed and get some more sleep.
Or go suck on a 5-hour energy drink of some sort.
Shelby is the Honeybunch who blogs over at The Life & Loves of Grumpy's Honeybunch.  Grumpy is her husband.  At least she tries to make you think he's grumpy, but he's not.  He's just an opinionated man.  He likes what he likes and well, at times he doesn't like.  Hmmmmm, maybe my Mountain Man is related to Grumpy.  Just sayin' . . .
Today is Shelby's birthday and there are several of us, her friends and fellow food bloggers, that prepared dishes from her blog. We are posting them on our blogs, and then we are going to eat them and think of our beloved Shelby.
No, she doesn't get to eat any of these great dishes.
No, she didn't get to smell the great aroma's in our kitchens while they were cooking.
And no, we are not showing up at her house ringing her doorbell and singing happy birthday.
We are doing all of this through the amazing technology of cyberspace.
She will just have to "pretend" we are there and that she gets to eat all this food.  Even though, she doesn't.
What a celebration, right???  Well, we would all LOVE to be there to celebrate with her at her home in New York (and I have promised her the next time we are there, we WILL be stopping by), and one of these days we all plan to get together somewhere here in the United States and celebrate our long-distance friendships.  But until then, we are thankful and grateful that we all know each other and appreciate the camaraderie that happens between good friends – even in cyberspace!
This is only one of LOTS of great recipes that Shelby has created and made.  Please do drop by and wish her a happy birthday, too.  One can never have too many friends or birthday wishes.
So, to start her birthday day off, here's my dish and gift for Shelby.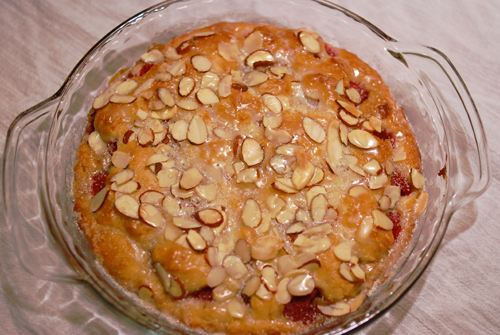 Shelby's Raspberry Coffee Cake
Recipe type:
Breakfast, brunch, cake, dessert
Prep time:
Cook time:
Total time:
A fabulous coffee cake that is perfect morning, noon, afternoon or night!
Ingredients
1 c fresh Raspberries
3 Tblsp Brown Sugar
1 c all-purpose Flour
⅓ c White Sugar
½ tsp Baking Powder
¼ tsp Baking Soda
⅛ tsp Salt
½ c 0% Fat Greek Yogurt
2 Tblsp Butter, melted
1 tsp Vanilla Extract
1 Egg
¼ c Sliced Almonds
¼ c sifted Confectioners' Sugar
1 tsp Milk
¼ tsp Vanilla Extract
Instructions
Preheat oven to 350F degrees. Spray an 8 inch round cake pan with cooking spray.
Combine raspberries and brown sugar in a bowl. Set aside.
In a large bowl, combine flour, sugar, baking soda, baking powder, and salt. Combine sour cream, butter, 1 teaspoon vanilla, and egg, and add to flour mixture. Stir just until moist. Spoon ⅔ of the batter into the prepared pan. Spread raspberry mixture evenly over the batter. Spoon remaining batter over raspberry mixture. Top with almonds.
Bake for 40 minutes, or until a wooden pick inserted in center comes out clean. Let cool for 10 minutes on a wire rack.
Combine confectioners' sugar, milk, and ¼ teaspoon vanilla. Stir well. Drizzle glaze over cake. Serve warm or at room temperature.
Happy, happy birthday, Shelby my friend!  May your days be long, your worries be few, and your blessings be numerous!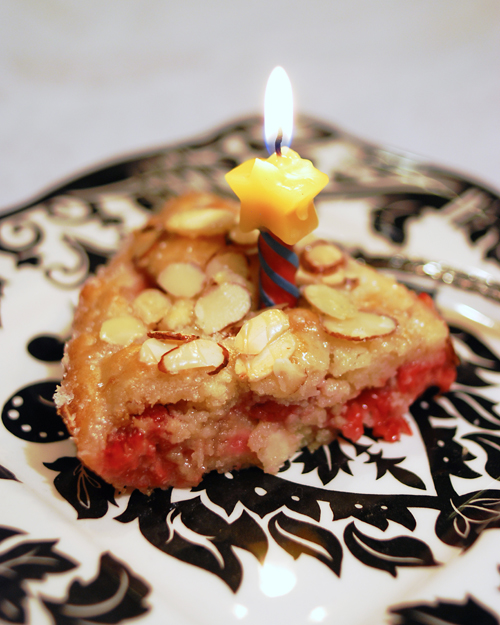 Check out the other birthday wishes posts from more of Shelby's friends!
Megan from Megan's Cookin'
Jenny from Mad Rantings of Andrew's Mom
Pam from Living Rancho Delux
Katrina from Baking and Boys