This is NOT my mama's coffee cake.
THIS was my mama's coffee cake.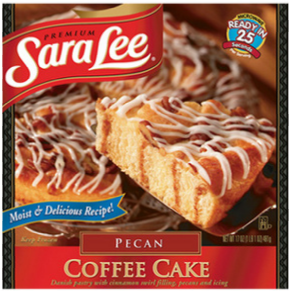 And we LOVED it!  It was always a real treat at breakfast when Mom heated up the Sara Lee coffee cake.  The only thing more special was when she surprised us with tangerine juice instead of orange juice.  (If I've already mentioned this before, just pretend you've never heard it.  Thank you.)
Don't get me wrong.  Mom was a GREAT cook.  And she taught me a lot about cooking in spite of the fact I didn't seem to be interested at the time.  But we didn't have coffee cake often, so it was always special when she served it.  Between the three of us we managed to polish off a whole cake (11.5oz – but who's really counting) at one sitting.  Oh, usually she would throw in an egg for some protein, but the coffee cake. . . . YUM!  It was like having dessert for breakfast.  And those warm pecans.  It all made for a distinct childhood memory.
When I was going through my blog assignment, Join Us, Pull Up A Chair, for the Secret Recipe Club this month, I went straight to Heather's recipe index and clicked on "Breakfast".  Breakfast is sometimes a hard meal for me because:
1.  I'm half asleep
2.  I'm not very hungry in the mornings (I make up for that later)
3.  I get tired of eggs and toast or yogurt, fruit and cereal
4.  I'm rarely in the mood to cook first thing in the morning
You see, I used to be a morning person, but now, I'm not.
I was hoping that Heather could help me out of my morning slump.  And when I saw her Blueberry Sour Cream Coffee Cake, I knew I had found "The One".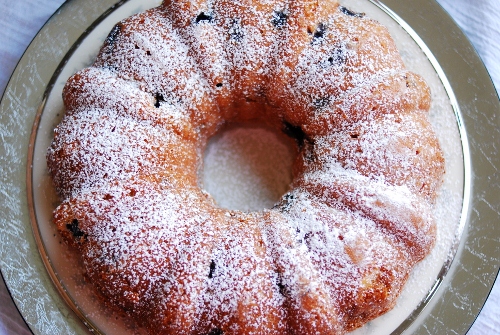 Heather started her blog as a way to organize her recipes.  And wow, does she have a great collection!  She also has a great little Kitchen Conversions chart that is extremely helpful when you are Forgetful Jones like me.
I did make a couple of substitutions, but stayed true to the spirit of the recipe.  As you can see, the coffee cake looks beautiful and tastes delightful!  I think Sara Lee will have to remain a childhood memory.  I'll take Heather's any day!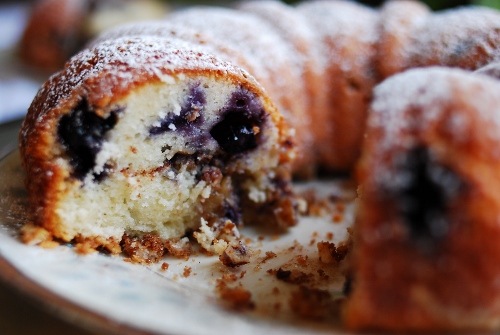 Blueberry Delight Coffee Cake
Recipe type:
breakfast, snack, brunch
Prep time:
Cook time:
Total time:
This is a super delightfully delicious coffee cake recipe. Fresh blueberries burst with flavor and the texture of the cake is perfect.
Ingredients
1 cup unsalted Butter, softened
2 cups white Sugar
2 large whole Eggs
1 cup Greek Yogurt
1 tsp Vanilla
1⅝ cup All-Purpose Flour
1 tsp Baking Powder
¼ tsp Pink Himalayan Sea Salt, finely ground
1 cup fresh Blueberries
½ cup Brown Sugar
1 tsp ground Cinnamon
½ cup coarsely chopped Walnuts
Instructions
Preheat oven to 350F or 325F if using a non-stick or dark colored pan. Grease and flour a 9-10 inch bundt pan. In large bowl, cream together the butter and sugar until light and fluffy. Beat in the eggs one at a time, then stir in the sour cream and vanilla. Combine the flour, baking powder and salt and stir batter until just blended. Fold in the blueberries.
In a small bowl, stir together the brown sugar, cinnamon and walnuts.
Spoon half of the batter into the prepared pan. Sprinkle half the brown sugar mixture over the batter in the pan. Spoon the remaining batter over the top and then sprinkle the remaining brown sugar mixture over the top layer of batter. Use a knife to kinda of "bury" the brown sugar mixture that is on top into the batter.
Bake for 55-60 (I used a dark, non-stick pan and cooked at 325F for 65) minutes or until a knife inserted into the crown of the cake comes out clean. Cool in the pan over a wire rack. Invert onto a serving plate and tap firmly to remove from the pan. Dust with confectioners sugar just before serving.
Another thing that can get you out of a rut is grabbing the good china and having a morning breakfast on the back porch.  The weather has started cooling off and it is about to be my favorite season, Fall!!
Go make this coffee cake, set the patio table with some of your best dishes, maybe even have a mimosa or two and enjoy!!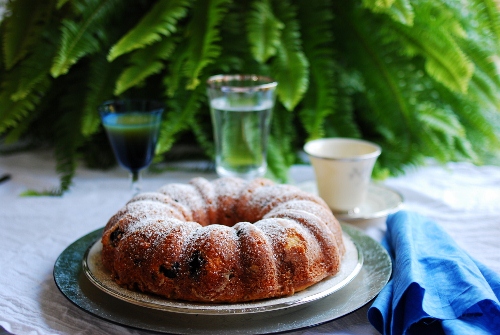 My hat's off to Heather for helping me get out of my morning funk and get moving!  Please be sure and check out her blog for more fabulous recipes.
And, if you want to see more of today's Secret Recipe Club recipes, check them out here.