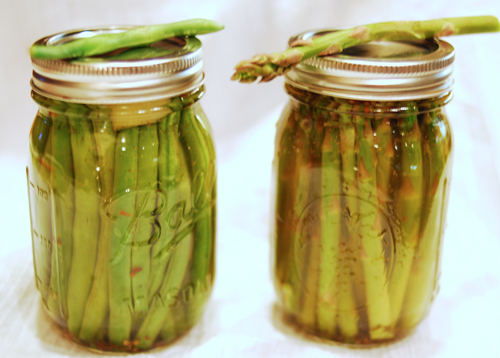 I don't know about you, but I could eat pickles until I turn into one.  I love most anything that is pickled.  And, if it is a bit (LOT) spicy, I love them that much more.  So when I saw these on Julie's blog, A Little Bit of Everything, I couldn't resist.  Julie's blog was my Secret Recipe Club assignment this month and I'm sooooo glad she was.
Julie loves to cook, travel and garden.
So do I!
Julie is a midwesterner.
I'm a southwesterner!  (close enough)
Julie is 50 something.
I'm . . . uh, er . . . getting older, too!
With all these things that Julie and I have in common, I just knew that her pickled bean recipe would be perfect for my taste buds.  And would add to the collection of veggies that I like to eat with my favorite afternoon snack . . .
Can't you just picture one of the pickled beans or asparagus spears in here?  I mean, a girl's gotta have her veggies.  Can't think of a better way to get them.
Oh, and every now and then I add a little hooch.  Just a smidge.
Since the recipe made enough pickling solution for two pints, I decided the other would be asparagus.  LOVE pickled asparagus like buttah loves toast.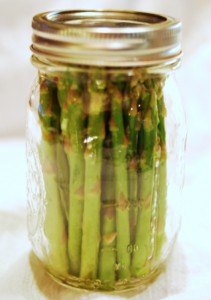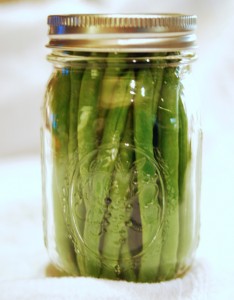 Quick Pickled Beans and Aspargus
Recipe type:
Appetizer, Garnish
Prep time:
Cook time:
Total time:
Pickled Beans and Asparagus. Perfect "pairing" for a vegetable tray or Bloody Mary, virgin or otherwise. But don't take my word for it. These are easy, quick and delightfully tasty!
Ingredients
½ lb. Green Beans, trimmed to fit in a jar
½ lb. Asparagus, trimmed to fit in a jar
1 cup white Vinegar
1 cup Water
2 large Garlic Cloves, smashed
1 Tblsp. Pickling Spice
2 tsp. Sugar
½ tsp. Kosher Salt
½ tsp. Red Pepper Flakes
½ tsp. dried Dill, more if fresh
2 canning jars, I used pints
Instructions
Place beans and asparagus in canning jars. Work a smashed garlic clove into the middle of each jar.
Combine all other ingredients in a medium-sized microwavable bowl and microwave for 90 seconds.
Stir and microwave for another 90 seconds.
Remove pickling solution from microwave and pour over the beans and asparagus in each jar. If you need a little more to fill up the jars, just add a little more water and vinegar.
Screw on the lid and place in refrigerator for at least 4 days before eating. They will keep in the refrigerator for about a month.
I'm hear to tell you these are WONDERFUL pickled veggies!  They have just the right amount of pickling spices, salt and sugar.  A great combination of sweet and savory all packed into one little pint.  I think the only thing I might change for next time, and there WILL be a next time, is to blanch the beans – a.k.a. microwave them – for 60 seconds or so.  Not too much, as I certainly don't want to lose any of the fabulous crispness that goes along with a pickle being a pickle, rather than a dud.  Oh, and I just might add some Tabasco, and kick it up another notch.
There are quite a few that participate in the Secret Recipe Club and ALL are fabulous cooks with loads of great recipes.  If you would like to see what the rest of the group made for their assignments this month, you can check them out below.
Until we eat again,