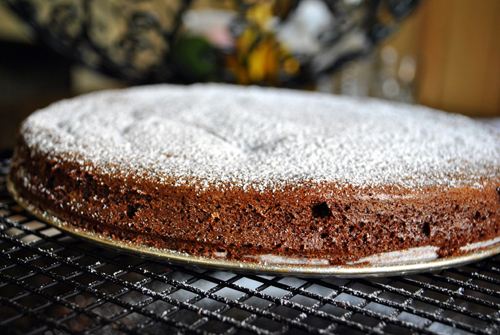 This post is for my friend and Secret Recipe Club foodie, Fallon of Fallon's Cucina.  I know you are going to love it.  I've been wanting to make a flourless chocolate cake forever.  This will be the one!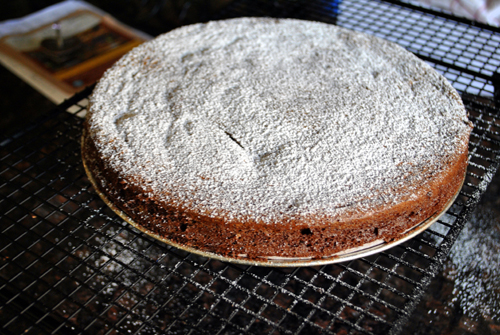 From Fallon:
I'd like to thank Suzanne for being able to put together this post and making sure my blogger wasn't left out of the dark for today. I unfortunately had a family member pass away this past week and the funeral was this past weekend which I had to attend in another state. There was just not enough time in a day for me to get my thoughts organized and prepare for the next
Secret Recipe Club
installment. I've been on such a chocolate kick since I made this cake. I was being cheap and didn't want to buy any special ingredients for a recipe. I had to have all ingredients in the house in order to make a recipe. Well I loved this recipe from Louisa over at
Living Lou
, but I needed 1 extra egg. So I bought eggs. At least eggs are healthy and I can use them for fried egg sandwiches (my favorite lately).
So that chocolate kick has not disappeared. I've eaten plenty of See's candies that one of my co-workers brought in and I put a nice dent in the box. Dark chocolate chips in my pantry that were calling my name after dinner the other night. It is unbelievable. What can I say, I love chocolate.
This recipe was SUPER easy to make. The adjustments I made was to use 4 ounces of bittersweet chocolate and 4 ounces of semi-sweet chocolate. Instead of your normal table sugar, I opted to use a baking blend of Stevia. It worked out just fine and the cake was phenomenal. When whipping up the egg whites, they don't get super glossy and stiff from using Stevia, but it  will give you the volume needed to fold into the chocolate mixture. If you let the cake rest for a whole 24 hours, it is completely fudgy and rich. Flour, what flour?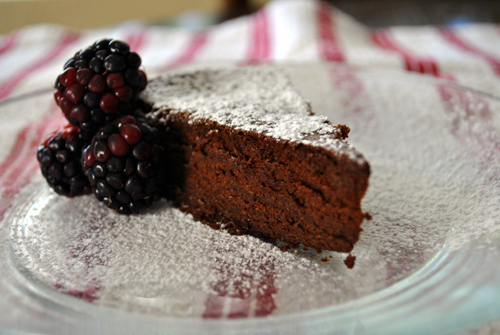 Prep time:
Cook time:
Total time:
Who doesn't love chocolate? This recipe will satisfy even the strongest of chocolate cravings! Don't wait, try it now!
Ingredients
6 tbsp unsalted butter, plus more for greasing the pan
4 ounces of bittersweet chocolate, chopped
4 ounces of semisweet chocolate, chopped
6 large eggs, separated
½ cup Stevia Baking Blend sweetner
confectioners' sugar
Instructions
Preheat oven to 275F degrees. Line the bottom of a springform pan with parchment paper and butter the sides and parchment paper. It is important to grease the pan (sides and bottom) very well so that the cake doesn't stick.
In a double boiler, melt butter and chocolate together, once melted, remove from heat and cool.
Meanwhile, with an electric mixer beat egg whites until soft peaks form. Once soft peaks have formed, gradually add in the sugar and beat until you see glossy, stiff peaks.
Once chocolate is cooled, (it is very important that it is cooled as to not cook the eggs.) whisk in the egg yolks. Transfer chocolate mixture to a large bowl and whisk in ¼ of the egg whites into the chocolate before folding in the remaining egg whites. Be sure to fold them in well as to not have pockets of egg whites because this will cause the cake to react oddly while baking.
Pour batter into the greased pan, smooth the top with a spatula and bake for 45-50 minutes. Cool completely before removing sides of the pan, and serve. If you let the cake rest for a whole 24 hours, it is completely fudgy and rich.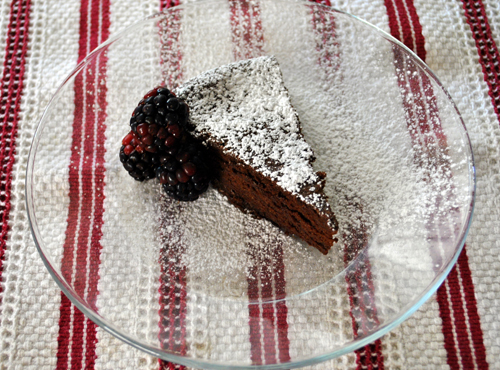 If you would like to check out the rest of the Secret Recipe posts from this week's reveal, they are right here.  By the little man.