I have to agree with my friend, Sharon.  Salsa is it's own food group.  I mean, other than a seaweed, flax, and kale smoothie, where else are you going to get such a great combination of flavors.  (I'll skip the Seaweed Smoothie, thanks.)  Tomatoes, onions, peppers, garlic – all good stuff.  Especially if I have some chips as my side dish!  By the way, that is a molcajete on the left.  The thing that looks like a rock, for those of you that were in on that discussion.
Jimmy and Nancy Jobe met while living in Hereford.  That's Hereford, Texas.  Not Hereford, England, although the two certainly have the best looking cattle in the world.  Hereford Whiteface cattle.  I think you've heard this from me before.  Probably won't be the last time you hear it from me either.  They were high school sweethearts and have been married forty years!  They both grew up tending gardens.  Nancy's parents were both teachers as was Jimmy's mom.  Jimmy's dad worked for the Soil Conservation District.  Working hard, learning, and playing in the dirt is in their blood.  Currently living in Plano, Texas, Nancy – a chemist and quality engineer by profession,  a pianist and volunteer music director at their church – and Jimmy – an IT professional, and Chairman of the Board of their church – brought along their gardening skills with them from The Panhandle after living many places, including Germany and France.  By the pictures I've seen, they apparently grow lots of good veggies to sustain them with lots of the foods they love.  Their garden is organic and about 18′ X 22′ of raised beds.  They have had an abundance of tomatoes and peppers this year, ergo the salsa.
This recipe includes the canning of the salsa.  Canning is one way to make those great home-grown veggies last and last.  Oh, and today just happens to be National Canning Day.
I've done my part.
This salsa is very simple and certainly worth it.  Surpasses ALL salsa recipes of my past.  And will be the only one in my future.
Forever and ever.  Amen.
I didn't tinker with the recipe much at all.  I used a little more green chile, a couple more whole, with seeds, jalapenos, and that's it.  Why mess with it if it ain't broke.
I need to call my husband though.  On his way home, we need more chips. . .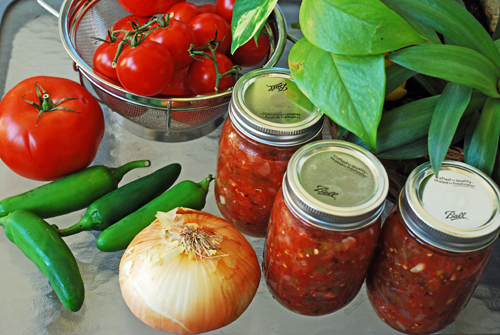 Jobe's Sassy Simple Salsa
Prep time:
Cook time:
Total time:
Well, this recipe is listed as an appetizer, but for me, this is a meal with a few chips on the side. Perfect salsa for everyone. If you like it hotter, use more green chile and/or more jalapenos. And enjoy! Ole'!!!
Ingredients
10 cups of peeled and chopped tomatoes
1 cup of roasted, peeled and chopped green chilies (Hatch). We grow and use the "Big Jim" variety
5 cups onions, chopped fine
10 large garlic cloves, chopped fine
5 medium roasted, peeled and chopped jalapenos with seeds
4 medium fresh jalapenos chopped (split and remove ½ of the seeds before chopping)
4 tablespoons chopped cilantro
3 tablespoons kosher salt
⅔ cup of fresh squeezed lime juice
Instructions
Combine all ingredients in a large sauce pan and simmer until onions are translucent and tender. Sample and adjust the seasoning to suit your taste and add more peppers if you want it hotter. The recipe above will produce a medium hot salsa. At this point I add a thickening agent to the salsa which is ¼ cup of cold water with 2 teaspoons of cornstarch stirred in and dissolved. Pour and stir this into the salsa and let simmer another 5 minutes.
Take freshly washed and hot jars (I use the dishwasher and take them directly out during the hot dry cycle) and fill them up to the neck leaving about ½ inch of head space. Wipe the top of the filled jar with a clean towel. Place a hot lid (I have these simmering in a pan with about 2 inches of water on another burner) on the jar and screw the ring on tightly.
Prepare a water bath cooker and bring to a boil, place the prepared jars in the cooker and cook at a slow boil for 15 minutes. Remove the jars from the cooker and place on a towel on the counter. As the jars start to cool to room temperature they will start sealing. All should be sealed within 2 hours. If one does not seal, refrigerate and eat it first.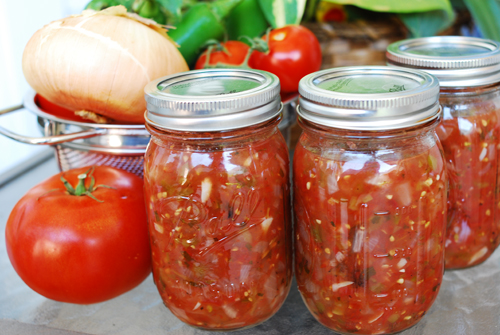 My sincere thanks to Nancy and Jimmy for working hard to perfect this recipe and sharing it with the rest of us.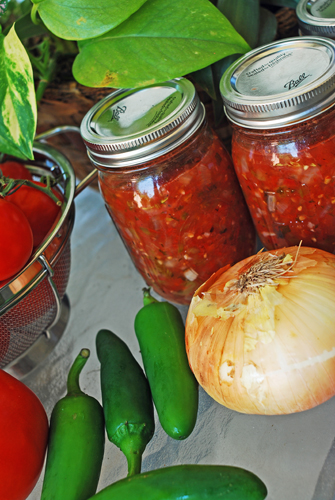 Until we eat again,