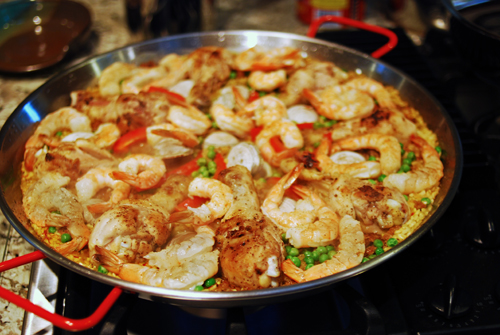 Hereford, Texas.  Where the cattle outnumber the people about 1,000,000:1.  If you have ever been within 50 miles and the wind is out of just the right direction (read *almost any direction*), you can "smell" the money in Hereford.  Named for the Hereford breed of cattle, it is home to the Hereford Whitefaces football team, which I believe they now call "The Herd".  Great football town and the prettiest breed of cattle around.  Hereford is also known as "The Town Without A Toothache" due to the natural fluoride in the water supply.  This is a small farm and ranch town with a population of about 15,000.  It is also my hometown.
Not unlike a lot of towns, Hereford has a Facebook page where those of us who lived or grew up in Hereford can gather and reminisce about the old days, meet new and reconnect with old friends.  The topics of conversation have ranged from what year we graduated to who owns what ranch these days to sharing our favorite recipes.  What I have found is that there are LOTS of fabulous cooks who lived in Hereford.  Once we get all these good folks and their recipes together, we are going to publish a cookbook, the title of which will go something like, "What's That Smell – Pies, Patties and Good Grub from Hereford, Texas".  But, for now, the recipes will be here under "The Hereford Series".  My partner in this endeavor who came up with the idea is Kerry Thompson.  I think it is only fitting that we start this series off with his Seafood Paella.
Kerry Thompson is quite the world traveler and has shared his recipe for paella.  He came up with this recipe immediately following his return from a trip to Spain. And I am SO glad he did.  I made this for my family and we could not quit eating it.  Fortunately there were leftovers, my husband went out of town, so I had them all to myself and never tired of it.  In fact, looked forward to having another bite every time!  Without further adieu . . .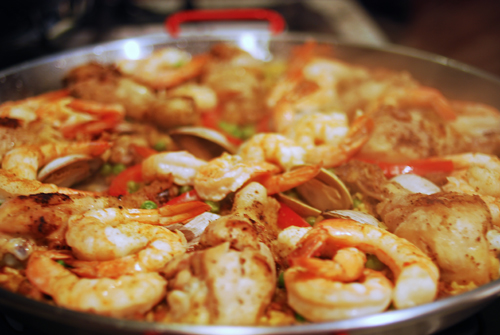 Kerry Thompson's Seafood Paella – The Hereford Series
Recipe type:
Seafood, Entree
Prep time:
Cook time:
Total time:
This is a great stovetop casserole and the flavors are so perfect together! Your family is going to go wild! Once all the ingredients are in the pan, the secret is to NOT stir while the paella is cooking no matter how tempted you are.
Ingredients
1 C uncooked rice (I prefer Thai Jasmine rice)
3 C unsalted chicken or seafood broth
1 lb peeled raw shrimp
½ lb chorizo
½ lb chicken drumetts, or wings with the tip end removed
8 live clams (I like littleneck or cherrystone)
1 red bell pepper
1 c frozen green peas
1 medium onion
1 T garlic
4 T olive oil
⅓ gram saffron
Instructions
Make sure the clams are alive. They should be closed, or, if they are open, they should close if you hold them under the tap with cold water running (they hate fresh water).
Chop the onion; slice the bell pepper into strips about ½" wide; cut excess fat from chicken wings; scrub the clam shells with a stiff vegetable brush.
Heat the olive oil on medium heat in a large, heavy skillet. Sautee the onion and garlic until the onion is soft and translucent. Add the uncooked rice and parch, about 2 minutes. Add the chorizo and chicken drumetts and brown lightly. Add 2 C chicken broth, sprinkle the saffron on top, and stir to mix. Cover, turn the heat down (3 on my electric stove), and simmer for about 20 minutes. During this time, occasionally shake the skillet to be sure the rice doesn't burn. Check about every 5 minutes to be sure there is still liquid in the skillet. If it starts getting dry, add more chicken/seafood broth.
After about 20 minutes, the rice should be slightly underdone. Add the shrimp and peas and stir. Add more broth if necessary–there should always be liquid in the bottom of the skillet. Add the clams in a circle around the edges, and the bell pepper strips like spokes in a wheel. Cover and simmer until clams open and rice is done. Serve with hungry friends.
I made just a couple of adjustments.  1.  I used this kind of rice:
2.  I didn't feel like making drumettes, so I just bought a package of drumsticks and used them.
3.  Kerry is a self-proclaimed "low sodium" kinda guy.  I seasoned each step in the process with sea salt and fresh cracked pepper.
The paella pan I got was a traditional one from Williams-Sonoma for $36 and is 17″ in diameter.  I doubled the recipe as I determined that Kerry's recipe would feed about 4 people.  Except for the saffron, which I only used about 3 grams even with the recipe doubled.  I could eat the rice by itself for a meal – AND lick the bowl.
I cannot recommend this Paella enough.  Kerry, you've done Hereford mighty proud!
Look for more Hereford cooks and recipes coming up very soon.
Until then . . .