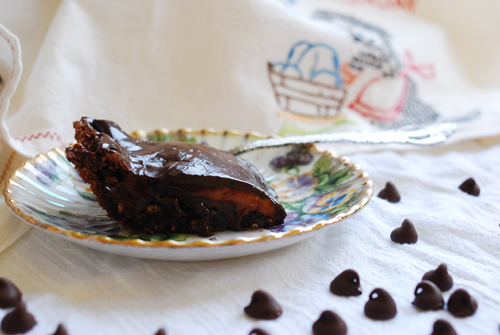 What kind of person would I be if I were to have been assigned a blog named "Smells Like Brownies" and not pick a brownie recipe to make?
Well, I'm NOT that kinda person.  YAY me!!
Melissa is the genius over at Smells Like Brownies.
Don't be expecting any recipes with fruit.
Nope, this stay-at-home, married-to-a-man-who-doesn't-give-two-hoots-about-cooking, lady who thinks pumpkin should pass her lips with every recipe that she makes – whew! – does not like fruit.
Zip, zilch, nada.
However, give her some chocolate and she will go to town!
Well, unlike Melissa's husband, my Mountain Man does like fruit.  But he also is a brownie-a-holic and can't leave them alone.  So, for the betterment of all mankind, I decided to make Melissa's Coffee Brownies.
Sort of.
Mostly the same, but with a bit of Mexican chocolate thrown in for good measure, thus, the title of this post. So, here we go!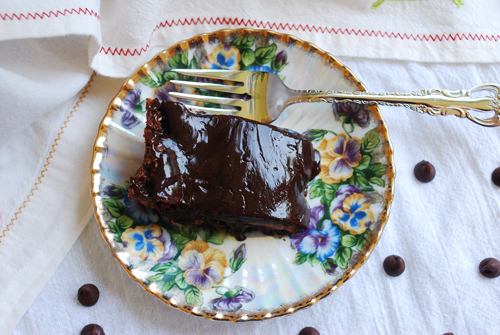 Recipe type:
Dessert, Snack
Prep time:
Cook time:
Total time:
Brownies are kinda like the perfect food. Good for breakfast, lunch, dinner or a snack. These brownies incorporate the best of the best, chocolate and coffee.
Ingredients
Brownie Ingredients:
½ cup Salted Butter
3 oz. Mexican Chocolate
2 Eggs
1 cup Sugar
1 tsp. Vanilla
⅔ cup Flour
¼ tsp. Baking Soda
Filling Ingredients:
1 tbsp.+ Heavy Cream
1 tsp. Instant Coffee granules
2 tbsp. Salted Butter, softened
1 cup Confectioner's Sugar
Ganache Ingredients:
1 cup Semi-sweet Chocolate Chips
⅓ cup Heavy Cream
Instructions
Preheat oven to 350°.
To make the brownies, melt butter and Mexican chocolate over low heat in a small saucepan. In a small mixing bowl, beat eggs, sugar, and vanilla until light and creamy. Combine flour and baking soda with the eggs, sugar and vanilla and slowly add the chocolate mixture.
Spread the brownie batter into a greased 8″ square baking pan. Bake for 25–30 minutes.
As soon as the brownies come out of the oven, combine the cream and coffee granules in a small bowl; stir until coffee is dissolved. In a small mixing bowl, beat butter and sugar until no chunks of butter are visible. Add the coffee mixture and beat until it becomes creamy. Add a tinsy bit more cream if mixture is too thick. Spread over cooling brownies.
In a small saucepan, combine chocolate chips and cream. Stir over low heat until chocolate is melted and mixture is thickened. Cool slightly. Carefully spread over filling and let stand for 30 minutes, or until the ganache is set.
Store in the refrigerator.
BTW, this recipe says it "Serves 16", but if you are at my house, it serves 2.  Just sayin' . . .
The brownies do "fall" a bit when you spread the coffee filling.  I suppose that should happen, if not, well . . . blame me.
I'm getting out an extra glass for some ice cold milk, just for you.  Take the rest of the day off.  You have my permission.
And come on over!
Or you can just make some for yourself.  Melissa, I thank you and my Mountain Man thanks you.  Fabulous!  And thanks to my Grandma Caison for teaching me how to embroidery and cross-stitch when I was about 5 years old.  These are a couple of cup towels that we made back in the day.
And if you want to see all the other goodies from the Secret Recipe Club, check them out here!