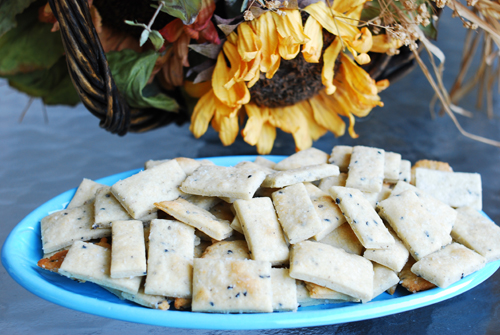 My SRC assignment this month was Oh Boy! Karen Cooks! by Karen, of course.  That would be silly if it were by Sandy or Roberta.  So yes, Karen is the cook.  And DOES she cook!  It seems there is no limit to what this talented lady can make – and make successfully.  I mean, hells bells, I can cook just about anything, too.  Doesn't mean it always turns out exactly as I had hoped.  Especially in the baking department, more specifically if it involves yeast.   But Karen has ALL that mastered.  Everything on her blog said, "Try Me! Try Me".  But when I saw THESE, I knew it was the one for me.
Karen found this recipe by Mark Bittman.  They looked so good I just couldn't pass them by.  There is always something that I want to make that I've never made before.
And, well, I'm a cracker virgin.
I love crackers!  There is something about the light, crunchy texture and the saltiness that is just my style.  Whether with a great cheese or soup, salad or spread, or whether they are a plain saltine or a big multigrain seeded disk, I love crackers!
Did I mention that I love crackers?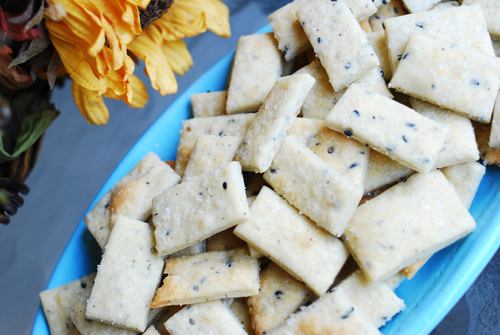 These crackers are crunchy, tender, flaky, and just melt in your mouth.  And soooo versatile you can make them anything you want with just a little imagination.
Karen, my hat is off to you!  These will be a "go to" recipe for special occasions and every day munching!  I can't wait to make more and figure out what other flavors I can make.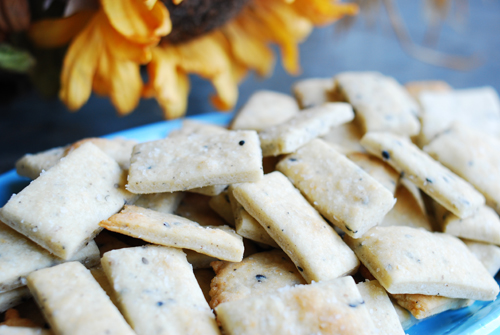 Parmesan Black Pepper and Sesame Seed Crackers – Secret Recipe Club
Prep time:
Cook time:
Total time:
This little cracker has BIG flavor. I'm quite sure it will be the talk of the table when you serve them!
Ingredients
1 cup all-purpose Flour
½ tsp Sea Salt
½ cup finely grated fresh Parmesan Cheese
4 T unsalted butter
¼ cup cream or half-and-half
1 tsp fresh cracked Black Pepper
1 tsp Black Sesame Seeds
Coarse salt for sprinkling
Instructions
Preheat oven to 400F degrees
Put flour and sea salt in food processor.
Add one tablespoon of butter at a time and pulse between adding each tablespoon until mixture appears "mealy".
Turn food processor to the "on" setting and slowly add cream until the dough sticks together well.
Dough should not be sticky, so add a little flour if you need to. If it is not sticking together, add just a very small amount of cream.
Remove dough from processor and make a round ball with it.
Roll dough out on a lightly floured surface to ¼", or thinner.
Cover a cookie sheet with parchment paper and transfer dough to cookie sheet. Rolling the dough around your rolling pin may make the transfer easier.
Score into your favorite shape with a pizza cutter.
Sprinkle with a little more sea salt or kosher salt.
Bake for 12 minutes, or until light golden brown.
Remove from oven and place the crackers and the parchment paper on a cooling rack for at least 15 minutes until the crackers are completely cool.
Enjoy!
Yesterday was Mother's Day and my family really did things up BIG!  I'm so excited about this gift that I have to show you what it is.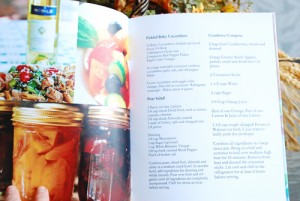 My very own cookbook of my very own recipes and photographs.  My Mountain Man contributed some of the photos that he has taken, too!  You could have knocked me over with a feather.  Lots of my favorite recipes and photographs in a presentation of love from my daughter Jeni, her husband Kody and baby Kaison.  Also from my daughter Gabi, her husband Jeremy, and their kids Justin and Abbie.  God has blessed me so richly!  I'm one lucky Mom, Mai, and wife.
If you would like to check out more of the Secret Recipe Club recipes for this month, just click on the little linky guy and he'll be happy to take you there!