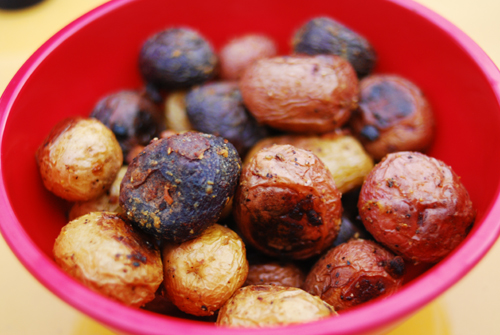 The blog I received for my Secret Recipe Club assignment for this month is one of my very favorites!  The Haggis and The Herring a.k.a. Daniel and Meredith, have recipes with some of the best ingredients, flavorful spices, and just deliciously simple to make.  Not only that, but Daniel is one of the nicest guys you will ever meet, which makes me sure that Meredith is one of the nicest ladies you will ever meet, too.
Not that I've met Daniel personally, but virtually, he is a GREAT guy.  Very helpful and courteous and full of, well, . . . . knowledge!
I know, me bein' from Texas and all, you expected me to say something else.
Daniel and Meredith's blog started as a blog for their wedding.  Then, after some encouragement from Meredith, Daniel took some culinary art classes and became more involved in Mediterranean and regional Spanish cuisine.  His love of cooking started with his uncle, catching and preparing Mako Shark when he was young and his love for cooking never waned.  Meredith is a personal travel agent, knitter and baker.  So, you know when you see something yummy and baked on The Haggis and The Herring, it is most likely a recipe from Meredith.
I love looking through the recipes in Daniel and Meredith's blog.  Many are very international, and most are very simple flavors that are perfect together.  The recipe that I chose is one of the many that fit all of those adjectives.
I have roasted potatoes many times, and it is one of our favorite dishes, but I had never thought of using a mustard sauce on them.  The result is heavenly and not "mustardy" at all.  These definitely went to the top of the favorite dishes list!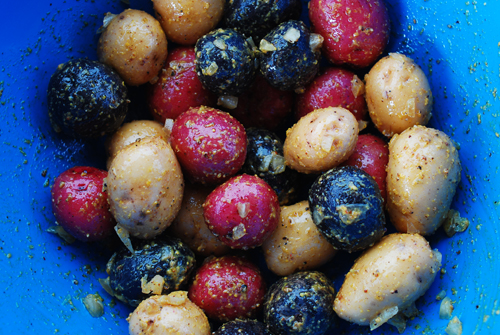 Mustard Garlic Roasted Potatoes
Recipe type:
Side, Vegetable
Prep time:
Cook time:
Total time:
Fabulous flavor comes from the mustard sauce that you make for roasting these potatoes. But, never fear, even if you are not a fan of mustard, you will still love these!
Ingredients
2 lbs. Tri-color or Rainbow Potatoes (reds, purples and whites) about 2″ in diameter each
2 Tbsp Extra Virgin Olive Oil
1 Tsp fresh ground Black Pepper
2 Tbsp minced Garlic
1 Tbsp spicy Brown or Deli Mustard
Instructions
Preheat oven to 400F degrees
Rinse potatoes, pat dry and place in a large bowl.
Combine oil, pepper, garlic and mustard in a small bowl and whisk until incorporated thoroughly.
Pour sauce over potatoes.
Toss potatoes until covered with sauce.
Bake in the oven for 15 minutes, then remove and toss a bit. Bake for another 15 minutes or until the skin is nice and brown.
Remove from the oven and serve hot.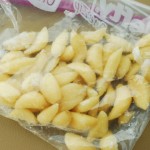 Tip:  By the way, if you love and use fresh garlic as much as I do and buy the big already peeled bucket of them at Sam's or Costco, garlic will freeze very well.  So I just toss the garlic in a plastic zip bag and put it in the freezer.  When I need the garlic I take out as many cloves as I need, let them sit for about 5 minutes on the counter, then chop them up and use them in my dish.  I do the same thing with roasted garlic.  Squeeze out the roasted, stick goodness and put in a plastic container and freeze.  When you need some roasted garlic, take out of the freezer and let sit for 10 or 15 minutes, then scoop out what you need.  Yep, it's that easy!
This was a fabulous dish for our week-long "camping" trip to San Antonio to the National Shooting Complex.  Very easy to make while on the road and the perfect side to accompany our grilled Lamb Chops and Fresh Sauteed Spinach.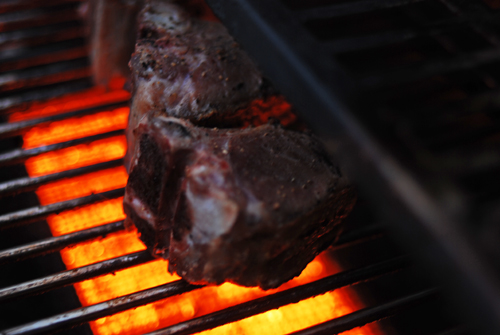 More about this trip coming up shortly!
Please check out other wonderful recipes from Dan and Meredith.  I know you will be adding several to the top of your favorite recipe list, too!  Thanks to both of you for making our meal great.  I really enjoy your blog and know I will be spending more time hanging out there.
As for the rest of you, check out the other recipes from this month's Group B SRC reveal here!