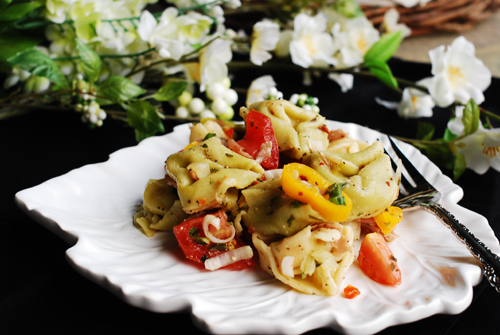 I know you are asking, "What in the heck is Suzanne thinking? Does she even know what she wrote for the title of this post?" I'm just a country girl from the, well, country. I'm Texan through and through. But somehow this salad needed a little more refined title than just "A Country Gal's Tortellini Salad" simply because it is out of this world good!
So, I added a very refined, "da".
The recipe comes from Amy's Cooking Adventures and is one of the best food blogs of all times! Amy admits that she grew up in her mother's kitchen watching her cook but she didn't really learn a whole lot. What she did learn was via osmosis. However, the important lesson she took away from her time in the kitchen watching her mom was that families need a time to sit down together and talk about their day, their problems, and their successes.
There is something so comforting in sitting around a table of lovingly prepared homemade food and sharing it with those you care about most, something we both have in common for sure.
OK, enough or I'm going to start "tearin' up". *sniff*
I had such a huge number of Amy's recipes that I wanted to make, but when I saw her Balsamic Tortellini Salad I stopped dead in my tracks. I hurried to the kitchen and put on a pot of boiling water right then and there.
Time's a' wastin'!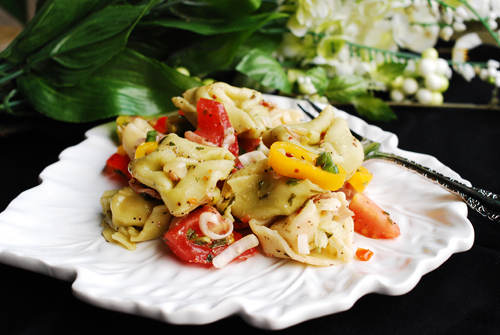 Insalata di Tortellini da Suzanne
Prep time:
Cook time:
Total time:
This will make a fabulous appetizer, entree, or side dish for your next family gathering. It makes a lot, but it will be completely gone before you can say "Tortellini!" Adapted from Amy's Cooking Adventures: Balsamic Tortellini Salad Serves 6-8 as a meal and 12-16 as a side dish
Ingredients
1 20 oz. package of 3 Rainbow Cheese Tortellini, prepared and drained
10 large spears of fresh Asparagus, parboiled
1 14 oz. can of Artichoke Hearts in water, drained
4 Tbsp White Balsamic Vinegar
2 Tbsp Extra Virgin Olive Oil
1 Tbsp fresh Lemon Juice
1 Tbsp Sugar
4 cloves of fresh Garlic, rough chopped
3 Spring Onions, thinly sliced using both white and the green
½ Yellow Bell Pepper, julienned
½ Red Bell Pepper, julienned
12 large Green Olives, sliced
¼ cup fresh Basil Chiffonade
1 tsp creshed Red Pepper Flakes
1 tsp fresh cracked Black Pepper
1 tsp Sea Salt
3 Roma Tomatoes, diced
6 slices of Proscuiutto, diced
Instructions
Cook tortellini per package directions and add asparagus spears to the boiling water with the tortellini for 2-3 minutes. Remove asparagus and finish cooking the tortellini. When the tortellini is al dente, drain and pour into very large mixing bowl
Cut the asparagus into 1" pieces and add to the tortellini along with the remaining ingredients. Stir gently but thoroughly, cover and allow to chill in the refrigerator at least 1 hour before serving. Overnight chilling will really be best to allow the flavors to meld.
Of course there are a few variations of ingredients from Amy's original recipe that you can find here. But overall I maintained the spirit of the recipe and the flavors. I KNOW you are going to love this one! And talk about perfect for the next family gathering . . . this is it!
If you want to check out all the other recipes for the Secret Recipe Club's Group C posts, the are all right here!  Thank you to Angela, Group C's Hostess with the Mostess for allowing me to post this with her group!