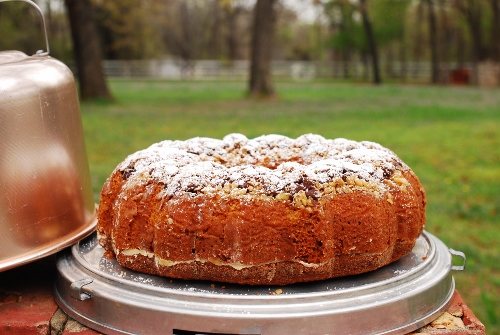 I am SUCH a ditz sometimes.
Some would say more than just "sometimes".
But you know, it usually works out well in the end.  I've learned not to stress too much.  Just fix it and move on.
So, I'm fixing it and I'm moving on.  But not before telling you about this great recipe and my friend, Heather over at Hezzi-D's Books and Cooks.
I already know that Heather is kind and forgiving (read – I screwed up).  But she also has a LOT of fabulous recipes, loves to cook, bake and read.  She also has this great nickname that her husband and a friend of his, Mojo, came up with for her "rock 'n roll" name several years ago – and it stuck, thus the name "Hezzi-D".  I love to cook, read, and have a great nickname that one of my husband's friends gave me about 28 years ago, "Vivisue" – a combination of my first and middle names.  But what we don't have in common is a "love" for baking.  It's not that I don't like to bake, I just don't think I'm very good at it.  I've really been in the mood for a bundt cake, and when I saw Heather's recipe for Babovka, I knew I had found exactly what would calm the Craving Beast inside me!
By the way, I told my Mountain Man that he couldn't slice into the cake because I hadn't taken pictures yet . . . . and I thought he was going to, well, you know . . . cry.
Shhhhhhhh, don't tell him I told you that.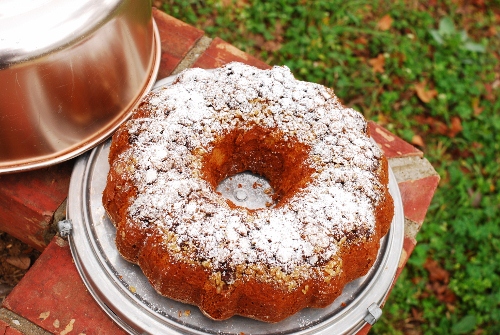 Prep time:
Cook time:
Total time:
Ingredients
4 Eggs, separated
1½ c. Powdered Sugar
⅓ c. Grapeseed Oil
⅓ c. Apple Butter
⅔ c. Hot Water
2 tsp Vanilla
1¼ c. Flour
1 Tbsp + 1 tsp Baking Powder
6 oz semi-sweet Chocolate Chips
1 c. chopped Walnuts
2 Tbsp Cocoa Powder
Extra powdered sugar for dusting
Instructions
Preheat oven to 350F degrees
Grease and flour your bundt pan.
Separate the eggs. Put the yolks in a large mixing bowl and the whites in a small bowl.
Beat the yolks with your mixer and add the sugar. Incorporate well.
Slowly add the oil, apple butter, and hot water and vanilla. Mix well.
The slowly mix in the flour and baking powder until smooth.
With a hand mixer, beat the egg whites until they triple in size. Then fold them into the batter carefully, with a spatula until just blended.
Sprinkle the chocolate chips into the bottom of the bundt pan.
Then sprinkle the chopped walnuts on top of the chocolate chips.
Pour half of the batter into the greased and floured bundt pan.
Into the remaining batter, mix in the cocoa and stir well.
Pour remaining batter on top of the vanilla batter.
Tap the pan a couple of times on the counter to eliminate bubbles.
Bake for 45 minutes, then let cool at least 15 minutes before turning on to a plate. Dust with powdered sugar.
This cake is BETTER than advertised!  The main difference you will see and taste between this Babovka and a regular pound cake is the light, fluffiness of the Babovka.  Extremely moist, just like you expect and has wonderful flavor.  We loved the nuts and choco chips on top, but they are certainly not necessary.
This would make a great dessert for a party, family gathering or picnic!  However, it is the Breakfast of Champions for me and Mountain Man this morning!
Dokud nebudeme jíst znovu!!
If you would like to see other fabulous dishes from this week's Secret Recipe Club, check them out here.