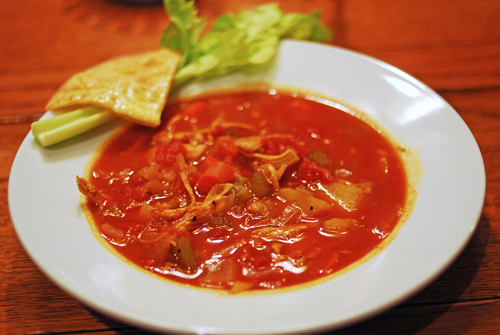 Welcome to the new look of my blog!  I'm still working on a few things, but, for the most part, everything is a lot the same.  Just the look (mostly) has changed.  This is a bit more reflective of the real me, whoever that is.  I hope you like it!
In the meanwhile, I have to tell you about this great blog I found!
Heather is young, she is energetic, she lives a healthy lifestyle, she is self-described "fitness and food enthusiast", she is a fitness instructor and she is preggers with her first baby boy.  ALL of which I am not!  Although I'm trying more every day.  NOT the preggers part, but the healthy stuff so I can have more energy and keep myself young.  I'm already a food enthusiast, so there is one thing I won't have to do.  At that, I'm really a perfectionist!  She and I do have a couple of other things in common besides the Secret Recipe Club and our love of food.  She has a black and white kitty – I have a black and white puppy.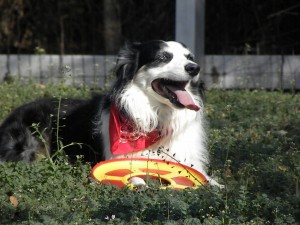 She shops at Costco – I shop at Costco.  She is going to have a baby boy – we just adopted a baby boy!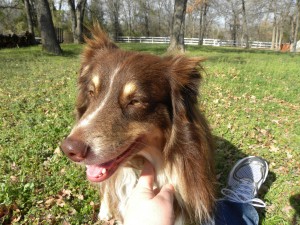 el perrito rojo del Rio Chama a.k.a. "Rojo"
Heather is a very interesting lady who blogs over at Get Healthy With Heather.  If her enthusiasm were contagious the whole world would be a better place for sure.  I really enjoyed perusing her blog and reading about her pregnancy and her outlook on life.  She is truly blessed!
I, too, am truly blessed to have received her blog as my Secret Recipe Club assignment for this month.  SRC is kinda like having a visit from Secret Santa once every month.  Christmas all year long!
It didn't take me long to figure out the recipe I wanted to make.  You see, it has been snowing HUGE flakes for about an hour and the weather has finally felt like a little bit of winter for the first time all . . . well, winter.  And winter just screams for soups and stews, in my most humble opinion – something I always carry with me.  So when I saw Heather's recipe for Crockpot Tortilla Soup with Cheesy  Triangles, I knew I had hit the jackpot.  Especially when I saw that it involved GREEN CHILE.  Those of you who have been following me for a while know my passion for that gorgeous pepper.
I'm starting to drool just thinking about this stew.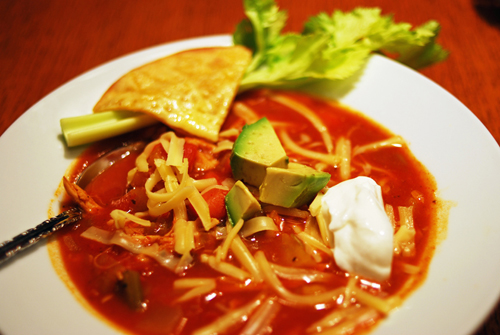 Southwestern Chicken Tortilla Stew
Recipe type:
Main, Stew, Soup
Prep time:
Cook time:
Total time:
Fabulously rich, satisfying, and packed full of flavor and all kinds of good-for-you stuff!
Ingredients
2 large Chicken Breasts
3-4 cups Chicken Broth
2 Tbsp Extra Virgin Olive Oil
2 cups diced Sweet Onion
2 ribs of Celery, sliced
2 medium Carrots, sliced
2 Yukon Gold Potatoes, diced
4 oz chopped Hatch Green Chiles (or any canned green chile)
1 Tbsp roasted Garlic (or 2 fresh cloves, minced)
½ tsp Cumin powder
¼ teaspoon fresh cracked Black Pepper
1 whole Bayleaf
14.5 oz diced No Salt Added Tomatoes
8 oz Rotel Zesty Tomato and Green Chile Sauce (or an 8 oz can of El Pato Sauce)
4-6 Corn Tortillas
1 cup Monterrey Jack Cheese, grated
Instructions
Boil chicken breast in chicken broth. I had some homemade stock, so I used that. When thoroughly cooked, remove chicken from pot and shred. Do not discard broth. Set chicken and broth aside.
Saute onion, celery and carrots in oil until onions are translucent. If you are not using roasted garlic, add the fresh minced garlic to the saute pan for 2 minutes. Add these to your chicken broth.
Add chicken, potatoes, chiles, roasted garlic, cumin, pepper, bay leaf, tomatoes, and Rotel or El Pato sauce to the soup pot. Salt to taste. Cook for 45 minutes.
To make the Cheese Crisps, turn on the broiler in your oven. With a piece of parchment paper on a cookie sheet, lay the tortillas flat and broil until light brown. Turn the tortillas over, sprinkle with cheese, and broil until the cheese is melted and the tortillas are golden brown. Keep a close eye on the tortillas while broiling.
Cut Cheese Crisps into quarters and serve with the Southwestern Chicken Tortilla Stew. Garnish the soup with a little more cheese, sour cream and avocados, if desired. We used 0% fat Greek Yogurt. Makes it wonderfully rich without adding many calories!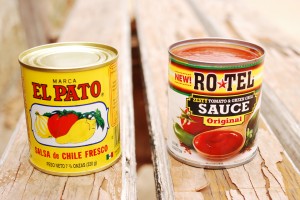 This recipe – including the cheese crisps – has only 230 calories per serving, 9 grams of fat, 200 mg of sodium (if you don't add extra salt), 21 carbs with 5 grams of fiber, 18 grams of protein (that's without yogurt added), and is very high in Vitamins A (almost as much as you need in a day!) and C (MORE than what you need in a day!). And a whopping 485mg of potassium, of which it seems I never get enough.   All of these are approximate, of course, but you get the idea. This soup packs a bunch of flavor and nutrition! Plus, it is wonderful comfort food on a cold winter evening. Comfort food doesn't have to be heavy to be rich and satisfying.
Want to catch more of the Secret Recipe Club recipes? Check them out here!