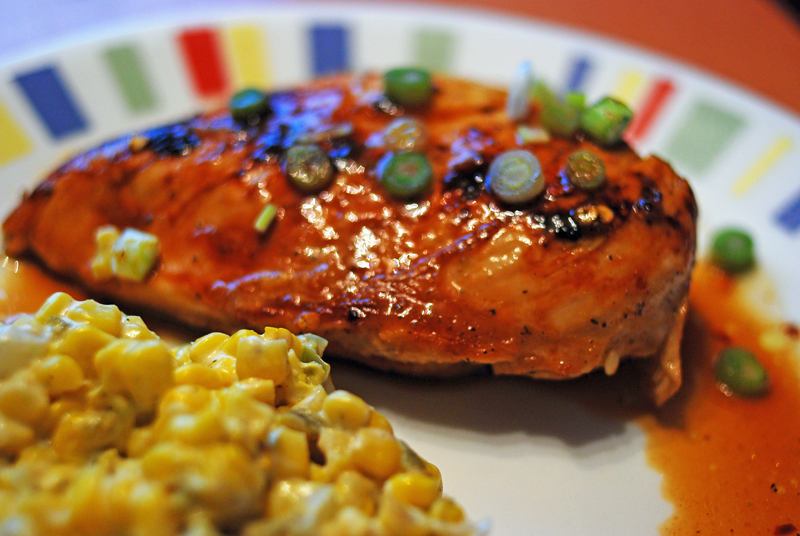 I know, your first thought is, "What the What?!?!?!
How can two such different dishes go on the same plate together?  Well, it's a bit of a stretch, but not all that much.  Here's how this twosome became a yummy pair.
I soooooooooooooo love being in the Secret Recipe Club.  It gives me an opportunity to really explore other blogs, recipes and take a moment to get to know the blogger.  And it forces me out of my coma and into the real world.  Well, at least the real cyber world.
This month my SRC assignment was The Pajama Chef Sarah.  She and her husband, Ben, are always whipping up something fabulous in the kitchen.  Newly weds of two years they have already reached a few compromises in their lives together.  Ben loves to lift weights and so he forces convinces her that lifting weights is something she should be doing, too.  Sarah loves to run and has forced convinced him to run with her.  I think they have got this marriage thing all figured out!
The other thing I love is finding out how someone decided to name their blog.  Well, among her loves in life which include her husband and peanut butter, she also loves lounging in her pajamas.  In fact, Sarah says, "If it was socially acceptable, I would wear pajamas 24/7!" I feel the same way about my sweats, although in the Texas heat, 24/7 would only be practical about 3 days out of the year.
While browsing through this blog, I had lots and lots of choices.  I decided on the Lime-Soy Chicken because, well, it was just what my taste buds were looking for.  Lime-Soy Chicken was a recipe of which Ben created and blogged and one that I couldn't resist.  Another recipe that caught my eye was Aunt Charlotte's Tex-Mex Corn.  Most of you know about my love for all things with Hatch Green Chile, so once again, I couldn't resist.
I was thrilled with the results!  Maybe not the two dishes that YOU would have paired, but for me they both really hit my spot.
"Spot" is very important, don't you think?
Oh, and a personal note to Sarah:  Don't sweat coordinating side dishes to be ready at the same time as the main dish.  Just keep cooking and working through it and before you know it you will amaze yourself!  With a microwave or a "warm" setting on your oven, no one will ever know the difference.  Ask me how I know.  ;)
Citrus Asian Chicken
Serves 4
4 Boneless Chicken Breasts
2 Tbsp Extra Virgin Olive Oil
Marinade:
1/4 cup Extra Virgin Olive Oil
1/4 cup fresh-squeezed Orange Juice
1/4 cup fresh-squeezed Lime Juice
1/4 cup Soy Sauce
1 Tbsp Light Brown Sugar
1 clove Garlic, minced
1 tsp grated fresh Ginger
1 tsp Sesame Oil
1/4 tsp Red Pepper Flakes
1/8 tsp Cumin
1/8 tsp fresh-cracked Black Pepper
Two thinly sliced green onions
Directions:
Combine all ingredients of the marinade in a large bowl and add chicken breast, turning in the marinade until well coated.  Let sit about 10 minutes, turning a couple more times while marinating.  Don't marinate very long because the acid (citrus, soy sauce) will "cook" the chicken and it will not only cook more quickly but also may turn out dry.  Just sayin'.
Heat 2 Tbsp of EV Olive Oil in a large skillet.
Remove chicken breasts from marinade.  Reserve all of the marinade and set aside.
Place each breast into skillet to sear until nice and brown.  Turn and sear the other side, making sure not to let the marinade burn.  It can do this quickly because of the sugar content of the marinade.
Reduce heat under skillet to medium and add the remainder of the marinade and continue to cook until chicken is just done.  Turn the chicken breast a couple of times while cooking.  This should take about 10-15 minutes, depending on the thickness of your chicken breasts.
Serve each breast, sprinkling the green onions over the top and the spooning some of the marinade over the top of the chicken.  And, you know, a little peanut butter in this sauce might be just awesome.  Oh, Sarah . . . . . . . I must try it with PB next time!  And there WILL be a next time.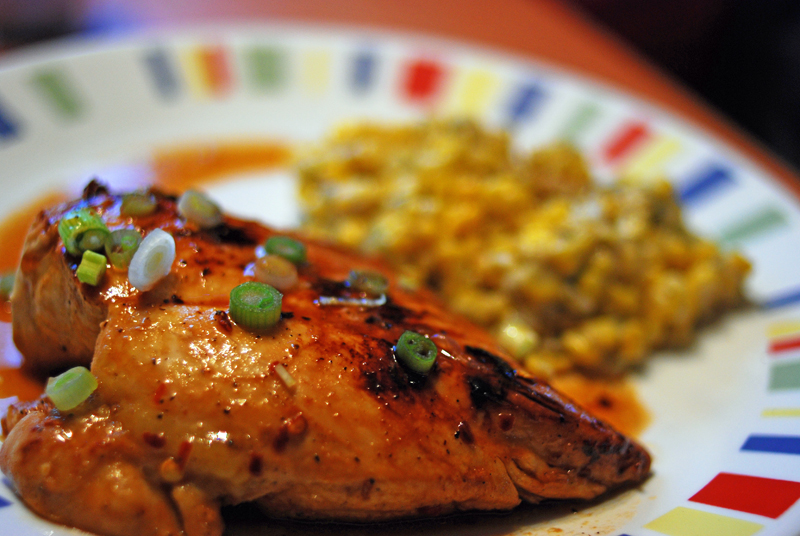 Mai's Southwestern Creamed Corn
Serves 4
Ingredients:
1 Tbsp Butter
1/2 medium Sweet Onion, diced
1 clove Garlic, minced
3 skinned and de-seeded Roasted Hatch Green Chiles (or one small can of green chile)
1/4 cup Chicken Stock
1/4 cup Heavy Cream
1 16oz package frozen Sweet Corn
2 oz. Cream Cheese
1/8 tsp Cumin
Salt and Pepper to taste
Directions:
Melt butter in medium sauce pan.  Add onion and saute until translucent.  Add garlic and green chile. Stir for another minute.  Add cream and stir until cream is just hot, then add cream cheese and stir until smooth.
Add corn and stir.  Cover with a lid and let cook until corn is hot, stirring occasionally.  This dish can also be put in a casserole pan, sprinkled with bread crumbs, maybe even a little cheddar cheese and baked in the oven for 20 minutes or so at about 375F.  YUM!  And, by the way, I LOVED my meal.  Again, East Meets West.  You see, I've enjoyed the two together before.
I know.
I'm weird.
NOT a big revelation.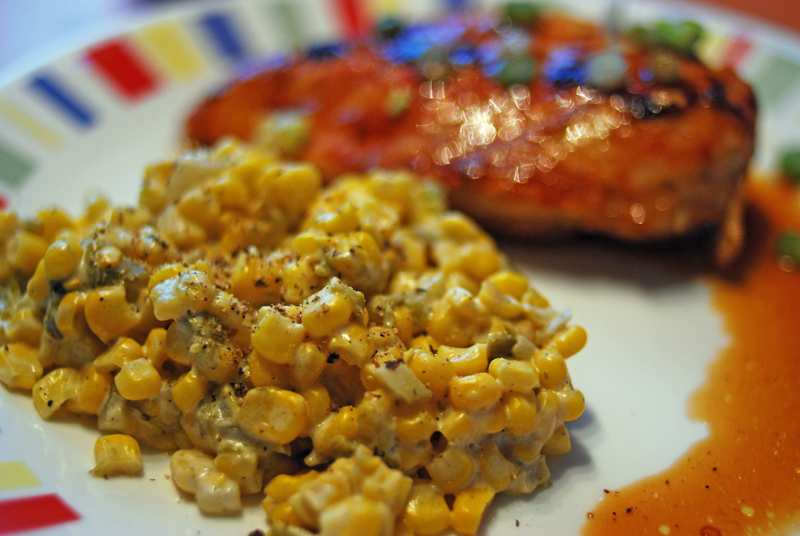 Weird IS the new norm.
Signed,
Suzi Norm
(just don't call me "average")
Check out the other Secret Recipe Club Recipes from this month here!


You can purchase high-resolution photos of pictures from this blog and other images here. They make great kitchen decor and gifts. Also, the notecards are great for sharing recipes! More added every week.
Thru The Bugs On My Windshield by V. Suzanne Collier is licensed under a Creative Commons Attribution-Noncommercial-Share Alike 3.0 United States License.
Based on a work at www.txcolliers.smugmug.com/Lifes-Highway.