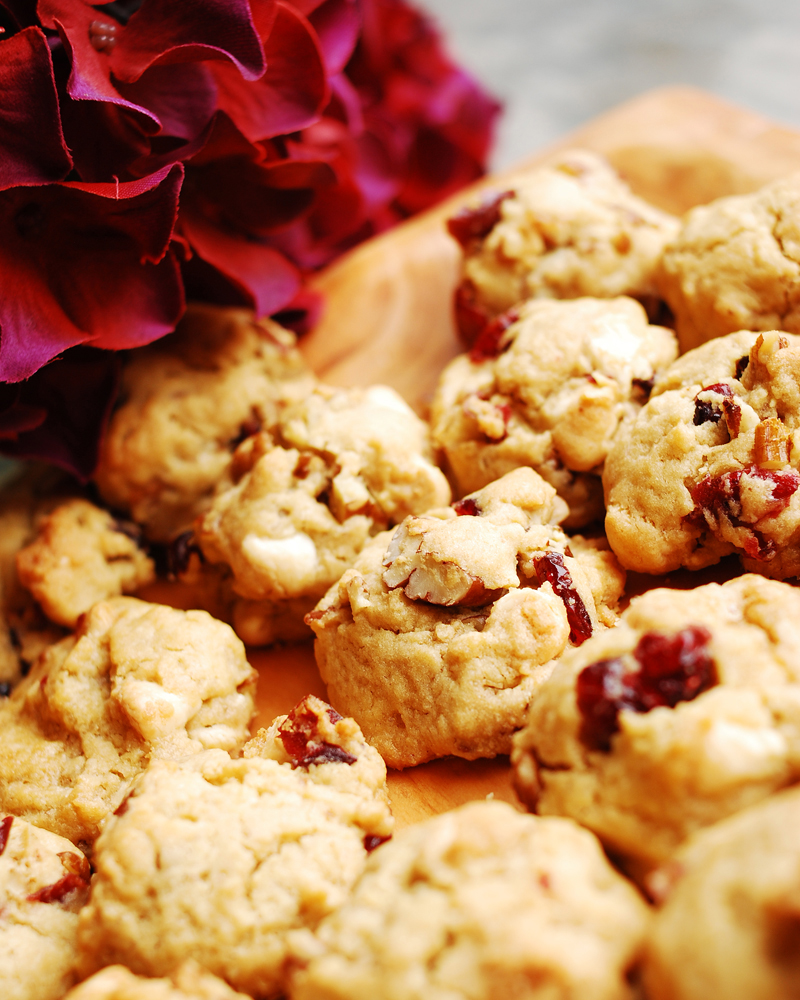 I just LOVE this time of year.  Fall is my very favorite!
I want to rake leaves then jump into the pile with childish abandon.
[slideshow]
I want to walk miles and miles and look at the beautiful colors, wearing my warm jacket and mittens.
I want to cuddle up with a cup of hot chocolate in front of the fireplace.
I want to bake cookies until the whole house smells like vanilla and chocolate and "home".
I want . . .
Wait, if I did all of this I would MELT!  It would have to be 20F degrees, not 72F degrees with a 40% chance of rain for me to enjoy any of this.  Geez, just thinking about it I had to turn on the fan.  Whew!
The one thing I CAN do, however, is make some cookies and that is exactly the plan.
For this month's SRC assignment I was given the blog, Bizzy Bakes.  And boy, does she ever!  Lots of wonderful recipes on her site and well worth a trip over to check it out!  However, being that I had cookies on my mind, these Cranberry, Pecan and White Chocolate Cookies really flipped my switch.Everything about them says "holiday" and "YUM" to me.
Cranberry White Chocolate Almond Cookies
Ingredients:
3 cups all-purpose Flour
1 teaspoon Baking Soda
1 teaspoon Salt
1 cup unsalted Butter, room temperature
1 cup Brown Sugar
2 whole large Eggs
1 tablespoon Vanilla
1 cup dried Cranberries
1 cup White Chocolate Chips
1 cup chopped Pecans
Method:
Preheat oven to 350F degrees.
Beat butter and sugar in a large mixing bowl until fluffy, about 2-3 minutes.
Beat in eggs, one at a time.  Then add vanilla and mix.
Add dry ingredients until just blended.
Add cranberries, chocolate and almonds and incorporate into dough.
Bake on an ungreased baking sheet for about 12 minutes.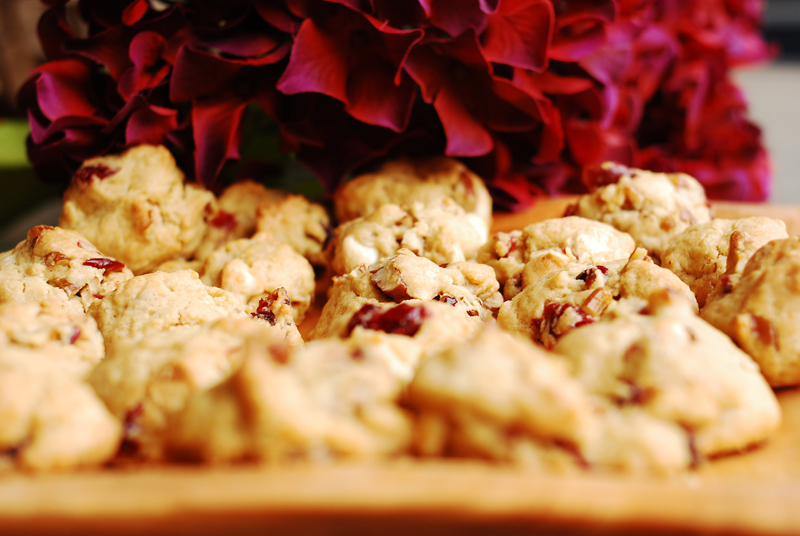 Word of warning, these ARE addictive!  I know your family will love them as much as ours did.
Loving the Fall and everything about it!
Suz
Check out the other Secret Recipe Club Recipes for this month now!  Right here!


You can purchase high-resolution photos of pictures from this blog and other images here. They make great kitchen decor and gifts. Also, the notecards are great for sharing recipes! More added every week.
Thru The Bugs On My Windshield by V. Suzanne Collier is licensed under a Creative Commons Attribution-Noncommercial-Share Alike 3.0 United States License.
Based on a work at www.txcolliers.smugmug.com/Lifes-Highway.