[slideshow]
Pumpkin Whoopee Pies
adapted from sarahlipoff.com
Makes about 20 pies
Ingredients for the cookie part:
1 1/2 c Pumpkin Pie Filling or Puree
2 Tbsp Maple Syrup
1 tsp vanilla
1/4 tsp ground Ginger
1 whole egg
1/2 cup Grapeseed Oil
1 cup packed Brown Sugar
1/2 tsp Baking Soda
1/2 tsp Baking Powder
Pinch of Salt
1/2 tsp Pumpkin Pie Spice
2 cups all-purpose flour
Ingredients for the filling:
8 oz Mascarpone Cheese
1/4 cup Powdered Sugar
1/2 tsp Vanilla
1/4 tsp Pumpkin Pie Spice
Mix the pumpkin, syrup, vanilla, ginger, egg, oil, and brown sugar in a big bow and whisk until everything is smooth and incorporated.
Add the salt, baking soda, baking powder and flour and mix together.
Heat oven to 350F and line cookie sheets with parchment paper (or grease the pans lightly).  Spoon on batter in 2″ rounds.
Place in the oven and bake for about 14 minutes.  When they turn a bit brown and crack a little, they're done!
Let them cool completely before filling!!!
Using a knife or pastry bag and swirl on some filling.  Top with another cookie. If the filling seems a little gooey, place pies in the refrigerator for about 30 minutes to stiffen the filling.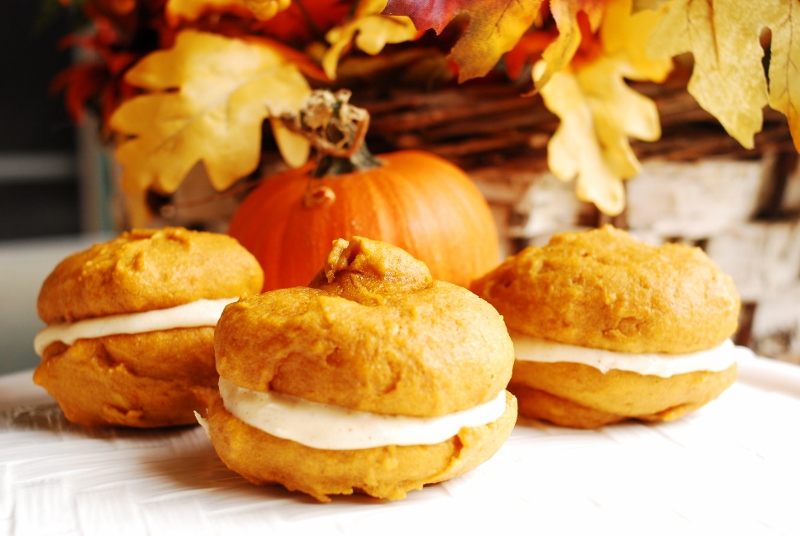 Eat and Enjoy – the pictures are worth 1,000 words.
Love these little punkins,
Suz
You can purchase high-resolution photos of pictures from this blog and other images here. They make great kitchen decor and gifts. Also, the notecards are great for sharing recipes! More added every week.
Thru The Bugs On My Windshield by V. Suzanne Collier is licensed under a Creative Commons Attribution-Noncommercial-Share Alike 3.0 United States License.
Based on a work at www.txcolliers.smugmug.com/Lifes-Highway.