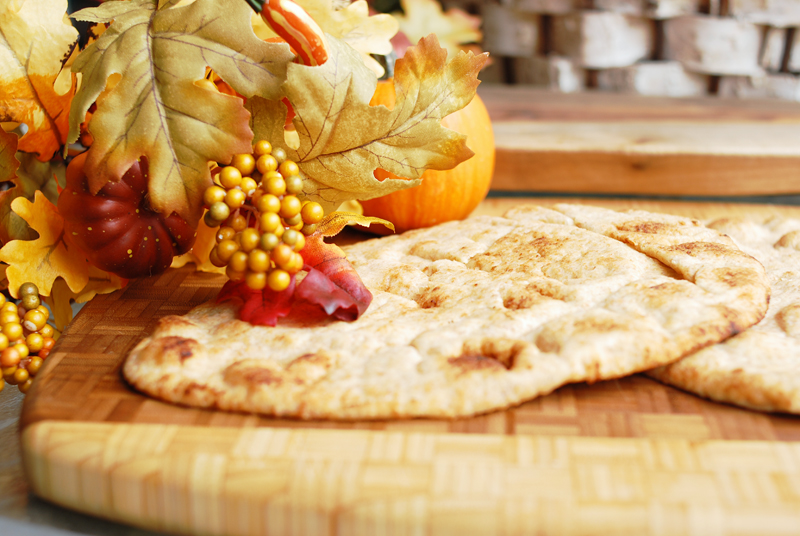 I love it when it's time for another Secret Recipe Club assignment! Getting to know other food bloggers and browsing their mouth-watering recipes is really good for my creative side, not necessarily my back side, but they are all fabulous and worthy of blue ribbons. It's the "deciding" part that really gets tough.
This month my blog assignment was The Novice Housewife. Shumaila was assigned my blog a couple of months back and made my Coconut Bread with Coconut Lime Sauce. So now I get to return the favor AND the kudos.
Browsing her site is an amazing journey and one that is definitely worth the trip. As I browsed through Shumaila's recipes, the Naan Pizza grabbed my attention. Quick, easy, simple and something that a lot of us look for when coming home from a long day at work or a quick weekend meal when everyone is starving and wants something to eat PDQ!
I happen to have some naan bread just screaming for me to make a pizza so I decided to quiet the beast.
The great thing about this idea was that I could grab whatever I had on hand to make the pizza. I always have leftovers of some variety, as I'm sure you do, too. Heck, I've even made beef stew from leftover meatloaf. So there! Besides, October is National Pizza Month and I feel the need to celebrate!
There is one HUGE requirement of making this recipe.
DO NOT make this any harder than it needs to be. Use Mai's Spaghetti Sauce or even an Alfredo Sauce, depending on the type of pizza you want to make. I choose the BBQ Chicken because of a great memory from Psycho Suzi's in Minneapolis. Best BBQ Chicken pizza I had ever tasted. I wanted to see if I could re-create that – or even BEST that.
PDQ Pizza to the rescue!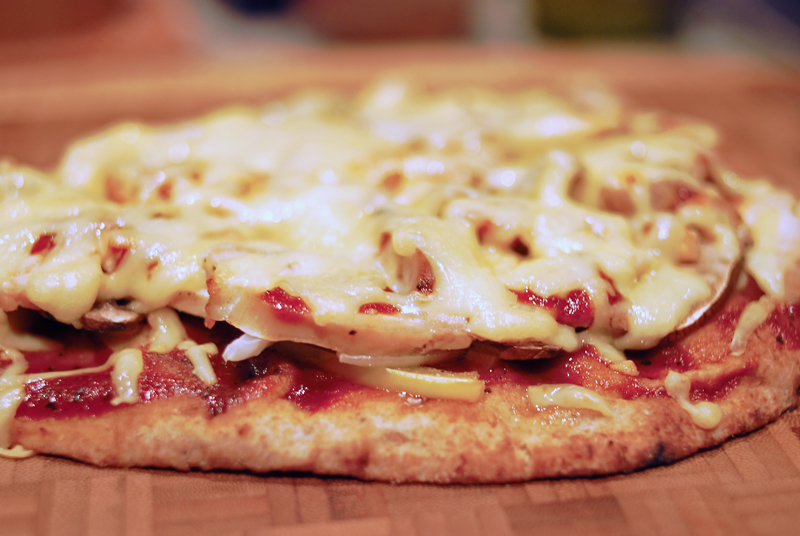 PDQ Pizza
Serves 2 or 4, depending on how hungry you are.
Ingredients:
2 pieces of Naan Bread
1/2 cup of Famous Dave's Devil's Spit BBQ Sauce – or whatever is your favorite
3 medium thinly sliced Portabello Mushrooms
4 Thin Slices of Sweet Onion
1/4 thin sliced Red Bell Pepper
2 medium Grilled Chicken Breast sliced thinly
1/8 tsp Garlic Salt
1 cup grated Gouda or Sharp Cheddar Cheese
Method:
Lay out your naan bread on a pizza stone or cookie sheet and spread BBQ sauce over bread, leaving off any ingredients from the edge. Add the ingredients to the sauce and top with cheese.
Bake in a 400F degree oven for about 20 minutes. Serve with your favorite salad! Not only was this every bit as good as Psycho Suzi's, but I think it just may have been even better! Thanks so much, Shamaila, for the inspiration!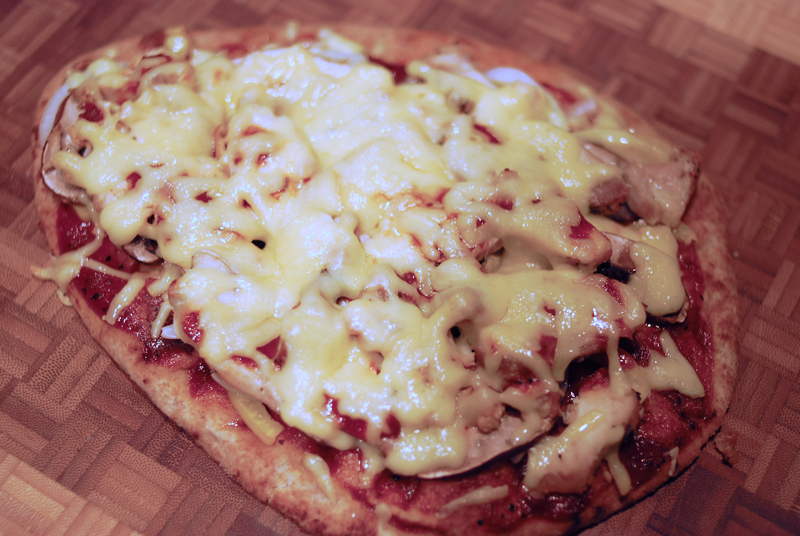 Now, just how fast was that?
Pretty Damn Quick!
(heehee . . . I love it when I can legitimately say a cuss word.)
Takin' it easy and makin' it easy.
Suz
If you want to check out all the other fabulous recipes included in this Secret Recipe Club group here's the secret link to see them all.


You can purchase high-resolution photos of pictures from this blog and other images here. They make great kitchen decor and gifts. Also, the notecards are great for sharing recipes! More added every week.
Thru The Bugs On My Windshield by V. Suzanne Collier is licensed under a Creative Commons Attribution-Noncommercial-Share Alike 3.0 United States License.
Based on a work at www.txcolliers.smugmug.com/Lifes-Highway.