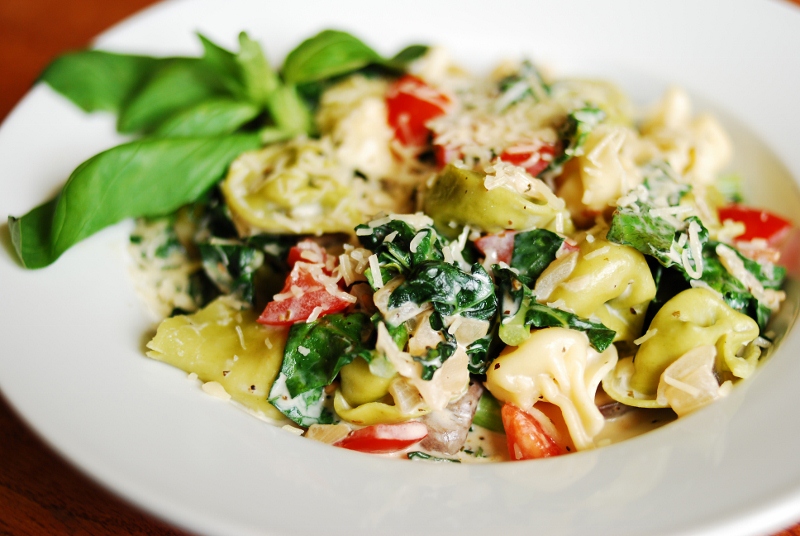 Tortellini Primavera
It is wonderfully amazing to be a part of people coming together who don't even really know each other to support one of their own!  In this instance there are a dozen or so bloggers getting together to blog about one of our fellow bloggers who was kinda left hanging.  The person who was assigned her blog backed out on reveal day leaving her an orphan of the reveal.  So, in order to show our support of "Connor's Cooking" there are several of us that have put together a post using one of Connor's recipes that we chose to make.
It's just what we do.  Rally to help out a friend.
No, there is no major tragedy involved here.  Just good old-fashioned friendship.
It seems that more and more people are becoming secluded in their own world.  We try to socialize our dogs, but forget about ourselves.  Companionship and friendship are sooooo underrated.  We feel better about ourselves when we care about others.
It's a fact.
Nurturing friendships isn't always easy.  It's really no different than working to make and keep your marriage going strong.  Regardless of how often, or not, they call you or drop in to say "have a good day", it isn't a one-way street.  YOU have to make a selfless effort to keep it going.  Communicate, reach out and touch someone, call them for no reason at all, just check in and say hello is as important as a good night's sleep.   And THAT is important.
Such is this group called the Secret Recipe Club.  It's not all that old, but we are all tied to each other by one big important element in our lives . . . FOOD!
Of course, food isn't really what it is ALL about.  Families gather at special holidays for that big turkey, homemade caramel apples, a favorite birthday cake, and potluck family reunions.  It's really all about family.
So here is my contribution to my SRC family and to Connor's Cooking.  The choices were many, but this "Tortellini Primavera" really grabbed me.  Not to mention I had most of the ingredients on hand.  And I didn't just make this, I ATE this and had to make myself stop eating.
Then I took two more bites.
THEN I stopped eating.
WOW, this is GREAT!
Quick, simple, and can be made with real butter or margarine, heavy cream or skim milk, etc.  In other words, you can make this as low cal, or not, as you want.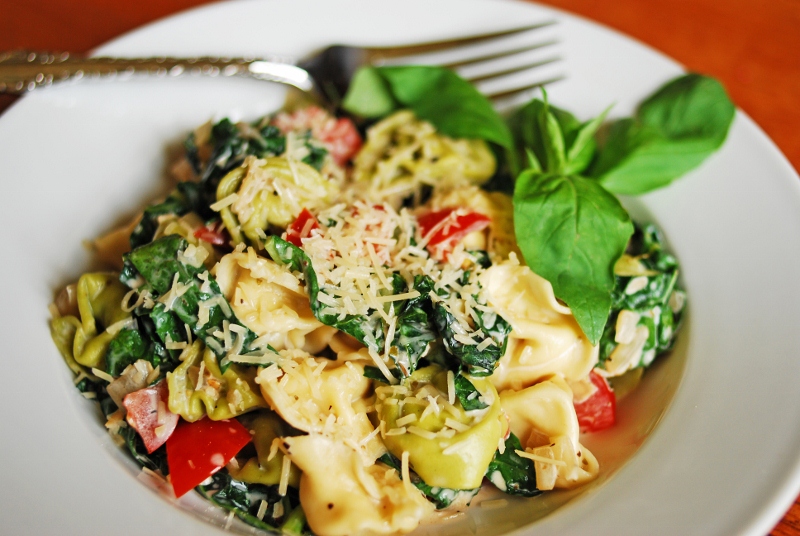 Tortellini Primavera
Adapted from Connor's Cooking
Serves 4-6
1 package (20 oz) frozen Cheese Tortellini
2 Tbsp Butter
1 small Onion, chopped
2 Garlic cloves, minced
1/2 tsp dried basil
1/2 tsp dried oregano
1 bunch of Lacinato Kale, chopped  (Chou frise' Lacinato – that's French, I think.  Don't ask me to pronounce it.)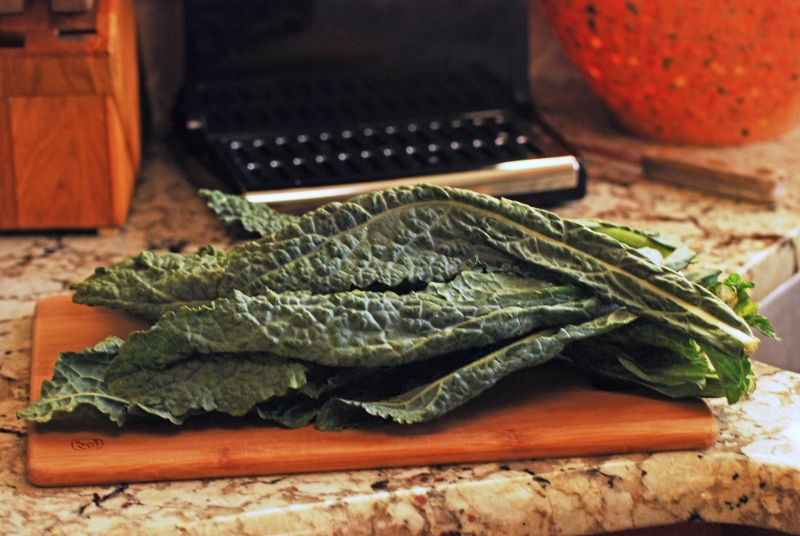 Lacinato Kale
2/3 cup milk
1 package (8oz) Cream Cheese, cubed
2 medium Campari Tomatoes, chopped
1/4 cup fresh-grated Parmesan Cheese
Cook tortellini according to package directions.
In a large skillet, saute the onion and garlic in the butter.  Add basil and oregano.  Then add kale.  Toss and simmer until kale is tender.
Stir in cream cheese and milk and continue to stir into a nice thick sauce.  Drain the tortellini with a slotted spoon and add to the saute mixture.  Reserve the pasta water and use to get your desired consistency of the sauce.  Incorporate the tomato.
Serve and sprinkle with the fresh-grated Parmesan cheese.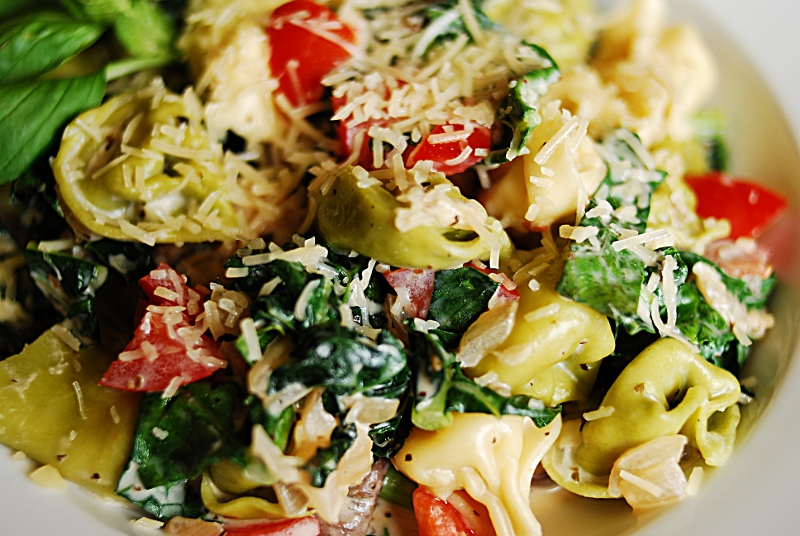 A friend is one of the nicest things you can have, and one of the best things you can be.  ~Douglas Pagels
Most of us don't need a psychiatric therapist as much as a friend to be silly with.  ~Robert Brault, www.robertbrault.com
Friendship isn't a big thing – it's a million little things.  ~Author Unknown
A single rose can be my garden… a single friend, my world.  ~Leo Buscaglia
Only your real friends will tell you when your face is dirty.  ~Sicilian Proverb
The antidote for fifty enemies is one friend.  ~Aristotle
In everyone's life, at some time, our inner fire goes out.  It is then burst into flame by an encounter with another human being.  We should all be thankful for those people who rekindle the inner spirit.  ~Albert Schweitzer
Thelma: Hey Louise, better slow down, I'll just die if we get caught over a speeding ticket. Are you sure we should be driving like this, I mean in broad daylight and everything?
Louise: No we shouldn't, but I want to put some distance between us and the SCENE OF OUR LAST  . . . DAMNED CRIME!
[Thelma laughs and screams]
Thelma: Oh man! You wouldn'ta believed it, it was like I was doing it all my life, nobody woulda believed it.
Louise: Think you found your calling?
Thelma: May-be… may-be.
[gets up in her seat]
Thelma:  The call of the wild!
My Thelma to Your Louise,
Suzanne
My cousin, Sandy and me. Circa 1960
If you would like to see the rest of the recipes that were re-created from Connor's Cooking, check them out here!
You can purchase high-resolution photos of pictures from this blog and other images here. They make great kitchen decor and gifts. Also, the notecards are great for sharing recipes! More added every week.
Thru The Bugs On My Windshield by V. Suzanne Collier is licensed under a Creative Commons Attribution-Noncommercial-Share Alike 3.0 United States License.
Based on a work at www.txcolliers.smugmug.com/Lifes-Highway.