Four words.
Anytime I see these four words in a recipe I stop dead in my tracks.
Well, not dead-dead.
You know what I mean.
I can't pass them up. New Mexico Green Chile owns a piece of my heart. And most of my taste buds.  Mmmmmmm, fresh roasted with lots of flavor and a reasonable amount of heat is just the ticket.  Split open a fresh-roasted green chile, insert a stick of Monterrey Jack cheese and wrap up in a warm flour tortilla and chow down!  Wow, there is nothing better (to me).
This month's Secret Recipe Club assignment was from Sin-A-Mon Tales, a fabulous food blog . The recipe for Corn Chilli Muffins was a big attraction for me when I read through the recipe and saw that it called for Green Chiles. I was hooked!
These muffins would be perfect for breakfast with a couple of eggs, brunch with a patty of sausage wedged between the top and bottom, lunch with a bowl of green chile stew, or dinner with a nice piece of elk tenderloin steak and a fresh pot of pinto beans. I think I'm hungry all over again.
This can be my meal plan for the next week!
And the great news gets even better.  Green Chiles are now in season!  You can find them, in some parts of the country, at your local farmers markets and some grocery stores.  Otherwise you will have to order them online.  They are fresh.  Mild, Medium, Hot or Extra Hot.
CAUTION!  If you do a web search and they spell "Chile" – CHILI, immediately escape and find a website that knows how to spell "Chile", as in peppers.  Chili is a hearty stew of meat that is flavored heavily with CHILE pepper, whether powder or the chile pepper pod.
Even as I write this, spell check thinks I am misspelling "chile".  ugh.
OK, back to the business at hand.
These are hearty muffins, full of flavor that you could literally make a meal on by themselves or with a nice green salad.
I think I'll give it all a try.
Cornbread Muffins Southwestern Style
Makes 1 dozen muffins
3/4 cup Milk
1 cup Egg Whites (or 3 whole eggs)
1 1/2 cup Yellow Corn Meal
1/2 cup all purpose Flour
1/2 cup frozen Corn Kernels
1 medium Onion, chopped
1/2 cup chopped Green Chiles
1/2 cup grated sharp Cheddar Cheese
1 Tbsp Baking Powder
1/2 tsp Salt
Put eggs and milk into large bowl and beat together with a fork until incorporated.
Add remaining ingredients and stir until dry ingredients are moist.
Grease 12-cup muffin pan and spoon in mixture.
Bake at 400F degrees for about 20-25 minutes, until slightly golden brown on top.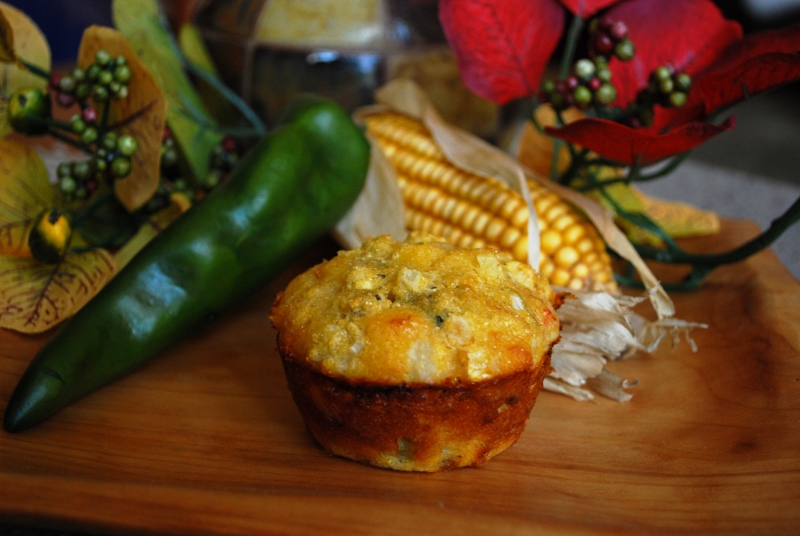 Always full of corn,
Suzanne
If you would like to see the rest of this month's Secret Recipe Club gems, check it out here!
You can purchase high-resolution photos of pictures from this blog and other images here. They make great kitchen decor and gifts. Also, the notecards are great for sharing recipes! More added every week.
Thru The Bugs On My Windshield by V. Suzanne Collier is licensed under a Creative Commons Attribution-Noncommercial-Share Alike 3.0 United States License.
Based on a work at www.txcolliers.smugmug.com/Lifes-Highway.