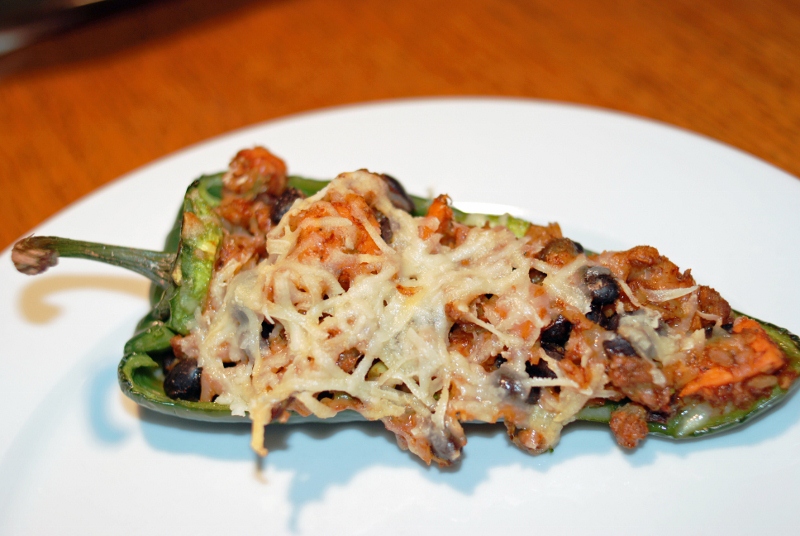 Trying to get a variety of complex carbohydrates into my daily routine is not a huge challenge, but a challenge nonetheless. Which includes a healthy dose of fiber. Ugh. When I was 25 years old I didn't even know what fiber was. Unless it was something you made clothing from.
Seems as if we have to learn more and more when we move into (or through) middle age. If I'm middle age, then I'm going to live to be at least 110. That being the case, taking care of myself is relatively important.
I quit smoking 12 years ago this month. Cold turkey. After about four other attempts. I can't be a "casual smoker". It's either all or nothing. So, now, it's nothing.
Why is it when you have that 50th or so birthday that you start to feel as if all that immortality you built up by living through your teens and twenties actually may run out at some time.
It's just a theory I'm working on. I'm pretty sure I will still live forever.
However, I've decided that I need to lead a quality immortal life.
I think that, for the most part, these Very Southwestern Stuffed Poblanos will help me do just that.
But mostly, they just taste good. Drool-worthy, as a matter of fact.
Very Southwestern Stuffed Poblanos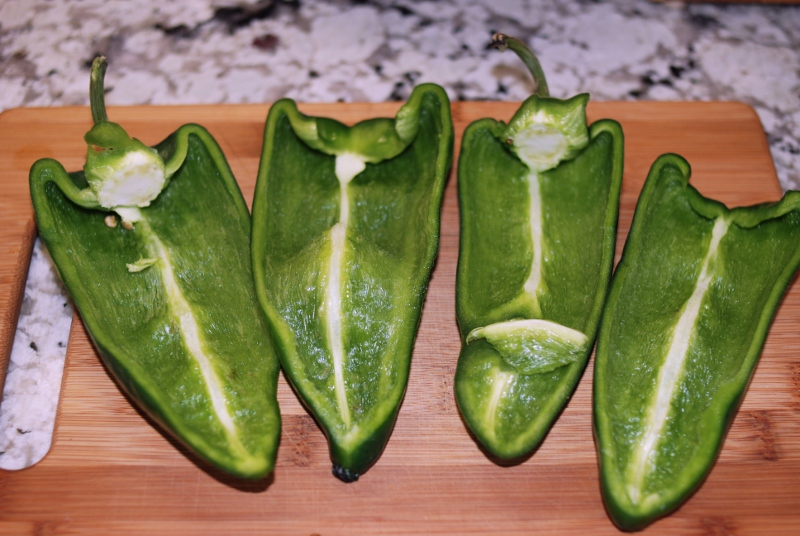 Serves 6
6 Poblano Peppers, halved
2 cups cooked Brown or Wild Rice (I used a mixture of both)
2 cups cooked Black Beans
8 oz. Chorizo Sausage, removed from casings, fried and crumbled
2 medium Sweet Potatoes, peeled and cubed into 1″pieces
5 or 6 Green onions,thin sliced
2 cloves of Garlic, minced
1 tsp. Red Chile Powder Hot or Mild – up to you
1/4 tsp Kosher Salt
1/4 tsp Cumin
1/4 tsp Black Pepper
1/4 cup grated Manchego Cheese
1/4 cup grated Cheddar Cheese
Place poblano halves onto backing sheet or in large casserole dish.
Mix all other ingredients except cheddar cheese in large bowl. Stuff mixture into pepper halves. Sprinkle cheddar cheese on top of mixture.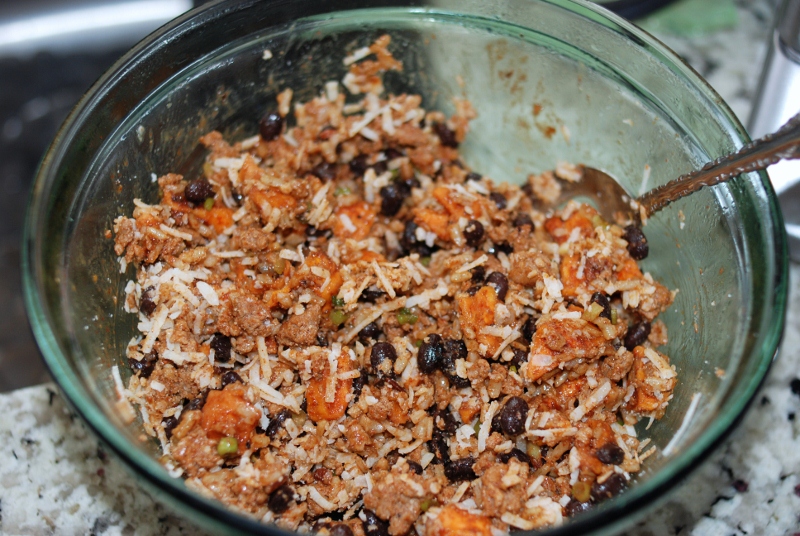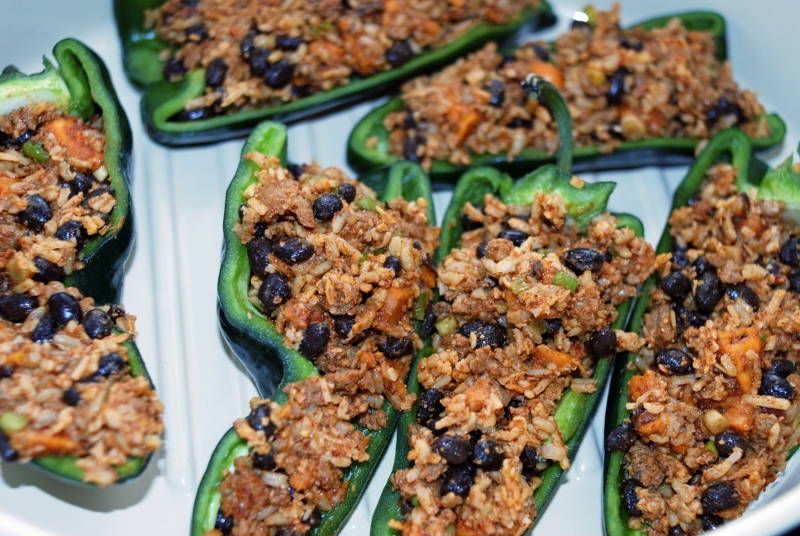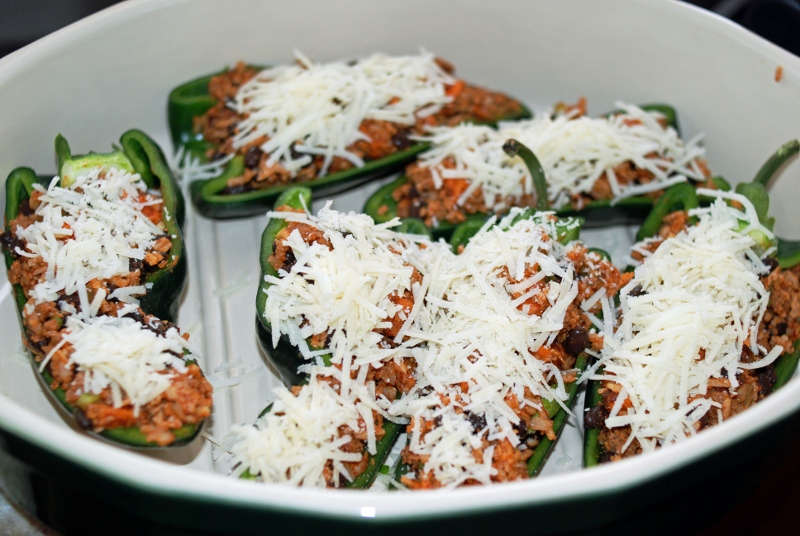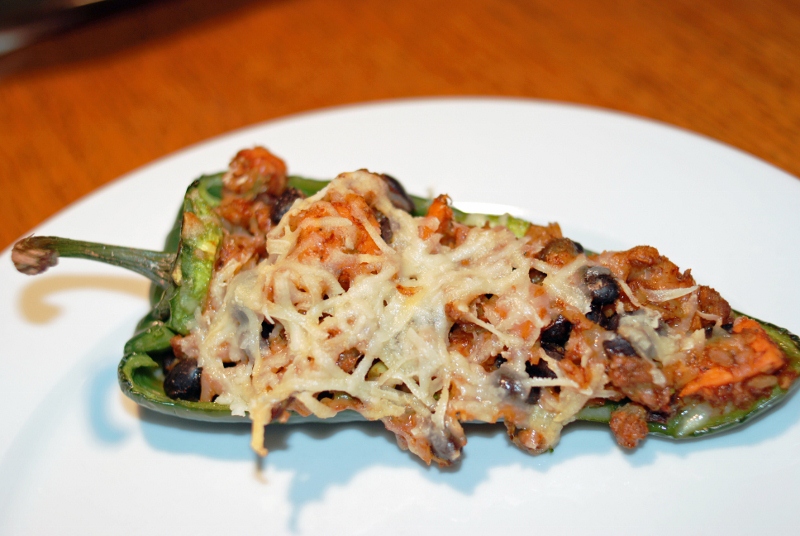 Bake at 400 degrees for 25-30 minutes.
Now, I'm not a nutrition expert, but from what I can roughly figure each whole stuffed pepper is going to yield about 6 grams of fiber. And, if you want to really healthy this dish up – or if you are a vegetarian, you could leave out the chorizo, although the sausage I used rendered so little fat I almost wanted to cook it in a little olive oil. You could also sub a little fat-free cream cheese or low-fat cheddar. Or use no cheese at all. Last, but not least, this pepper would be great for a side dish with a Flatiron Steak or some Grilled Margarita Chicken. It's that good!
All in all I'm extremely pleased with the taste, simplicity and health factor of this dish. But the drool factor is off the charts!
Stuffed,
Suz
You can purchase high-resolution photos of pictures from this blog and other images here. They make great kitchen decor and gifts. Also, the notecards are great for sharing recipes! More added every week.
Thru The Bugs On My Windshield by V. Suzanne Collier is licensed under a Creative Commons Attribution-Noncommercial-Share Alike 3.0 United States License.
Based on a work at www.txcolliers.smugmug.com/Lifes-Highway.