Easy, Quick, Simple, and Simply Delicioso!
Now that I have your attention, I want you to know this is a departure from my norm. I'm not Italian and this is not a "leftovers" recipe. But hey, when have I ever been "norm"?
Does that make me normal?
Inquiring mind wants to know.
It is, perhaps, the best meatballs and spaghetti sauce (gravy) I've ever tasted. But then, I may be just a tad partial.
That's OK, right? I mean, wouldn't it be bad if I didn't like my own cooking?
I've always been a Spaghetti-Sauce-In-A-Jar kinda gal. Easy, quick, no fuss, no muss. Never exactly the "taste" I was looking for, but close enough. Right?
Wrong. I never knew that making my own sauce could be just about as easy as opening a jar, and a whole lot more tasty!
Enter the meatballs.
I NEVER order spaghetti with meatballs at a restaurant because, frankly, I have never met a meatball that I liked. At all. Most have too many bread crumbs and not enough flavor for me. Becoming just a ball of mush by the time they get to the table. You, too?
I can fix that.
And so can you.
Unbelievably tasty!
Without further procrastination, at which I am an expert, I give you "Mai's Meatballs and Spaghetti Sauce". This also goes great with a green salad and some of my Green Chile Honey Vinaigrette!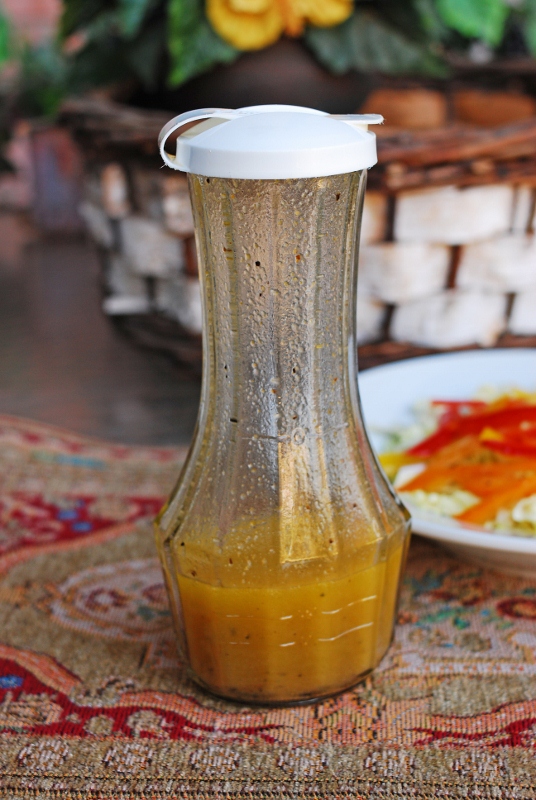 Green Chile Honey Vinaigrette
Oh, I'm "Mai", by the way. Pronounced "may". I have a few different handles, but that's what my grandkids and granddogs call me.
*Notice the * below for the garlic. Here's something I learned just the other day. A lot of us not only LOVE garlic for it's flavor and smell, but eat it for its health benefits. Heart-healthy and all that. Well, did you know that in order to reap the healthy benefits of garlic that you need to chop, mince or mash it about fifteen minutes in advance of using it in a dish to release all the sulphides? I didn't. Now, I'm no medical expert and don't claim this information to be the "end all". However, if there is any possibility that is true, then why not prepare your garlic ahead of everything else? Can't hurt, right?
Procrastination is over. Here we go!
Mai's Italian Meatballs
Makes about 24 2″ meatballs
1/2 lb Ground Beef
2 Hot Italian Sausages, with casings removed
1 large Elephant Garlic Clove, minced*
1/2 large Onion, small diced
1 cup Panko Bread Crumbs
1 cup Parmesan Cheese, fresh grated (not the green can crap. Blehck!)
2 Eggs, slightly beaten
1 Tbsp Black Pepper
1 tsp. Sea Salt
1 tsp dried Oregano
1/2 tsp dried Basil
1/2 tsp dried Sage
1/2 tsp. Herbes de Provence (if you don't have this, just double the Basil)
1/4 cup fine chopped fresh Flat Italian Parsley
Combine all ingredients in large bowl and mix until thoroughly incorporated. Good to take off your jewelry for this, please. Form into 2″ balls by firmly squeezing together then rolling around in your palm.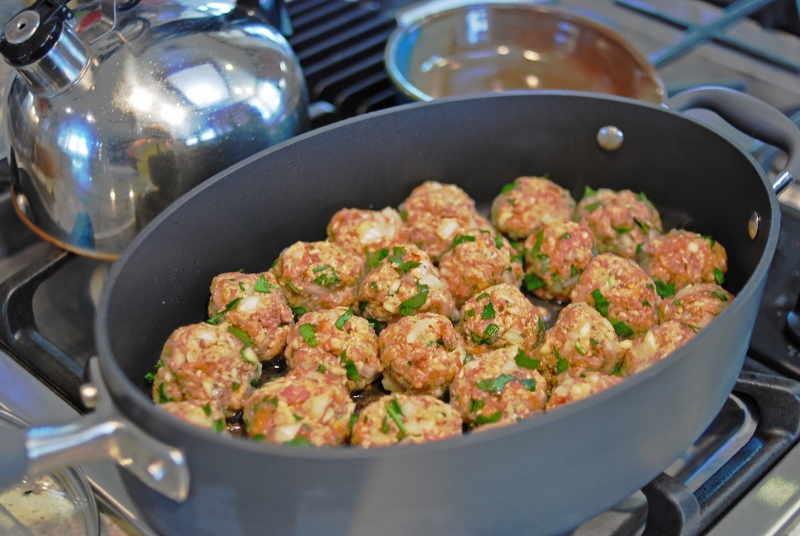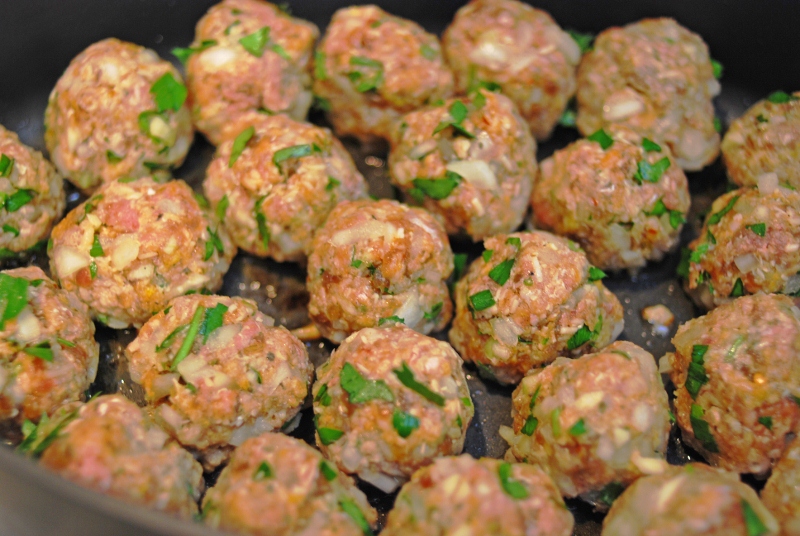 NOTE: You can place individually on a cookie sheet and freeze at this point. Then bag 6 or 12 meatballs to a bag.
Thaw thoroughly then start back here:
Place in meatballs large skillet and brown each meatball on all sides. Remove from heat and set aside.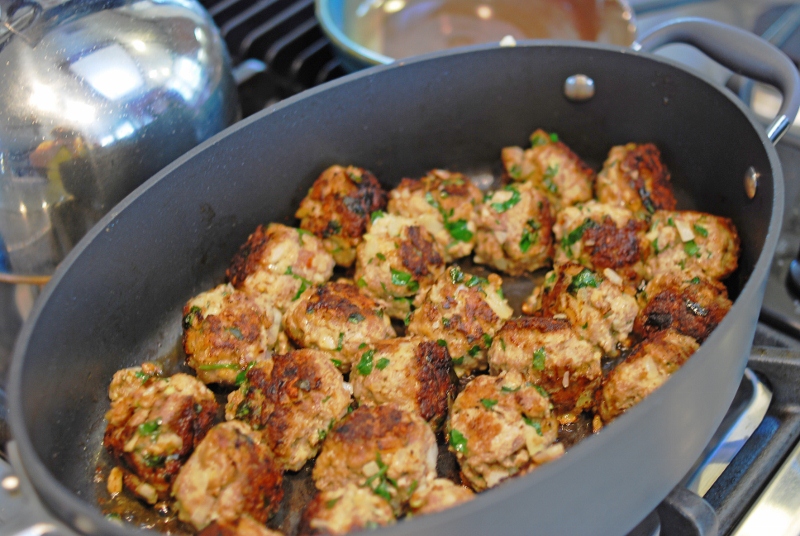 Mai's Italian Gravy
Makes about 2 quarts
2 28oz cans Crushed Tomatoes
2 large Elephant Garlic Cloves, rough chopped*
1 large Onion, chopped
2 Tbsp Extra Virgin Olive Oil
2 Tbsp dried Oregano
2 tsp Red Pepper Flakes
2 tsp dried Basil
2 tsp fresh ground Black Pepper
1 tsp Sugar (gets rid of the "canned" flavor of tomatoes)
1 cup Beef Broth
3 Bay Leaves
2 cups fresh Grated Parmesan
In a large saucepan saute onion in olive oil until translucent. Add garlic and stir for about 2 min.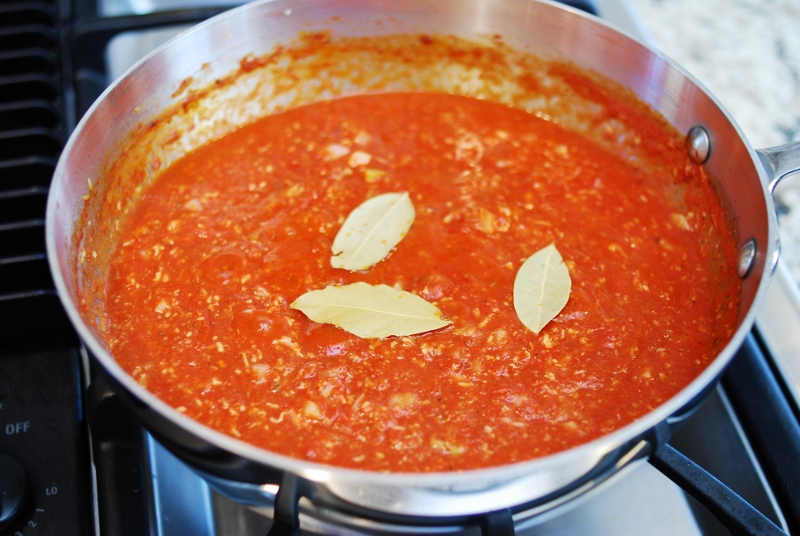 Then add remainder of ingredients, except Parmesan, and simmer for 2 hours stirring occasionally. Remove bay leaves. This is the point where you can freeze the sauce in 2-4 separate containers. Don't forget to label your containers with the contents and the date.
Then you can thaw and start again here:
Pour sauce over your meatballs in a large saucepan. Simmer on low for a couple of hours. If your gravy starts getting too thick, add a little more beef broth. Stir gently and occasionally.  Turn heat off of burner and add Parmesan cheese.  Stir gently until incorporated.
Serve with your favorite pasta.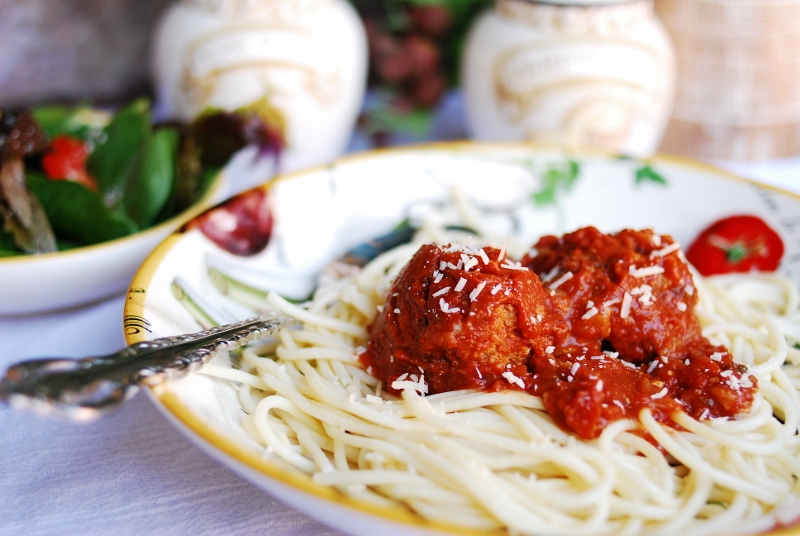 It's just that simple.
So, next time you are at the store and start reaching for that jar of spaghetti sauce, just keep on moving and pick up a couple of cans of crushed tomatoes. Just say "NO!" to sauce in a jar and "YES!" to meatballs. And, if you make this up ahead of time and freeze, you will have a quick meal in minutes that will have all the makings of being "homemade", because, well . . . it is!
Now, if you want to REALLY make this homemade, you could use fresh tomatoes. Enough to equal about 56 ounces of crushed tomatoes. You would need to follow these instructions to make that happen. I went the can route. It's all up to you.
Siete sempre i benvenuti al nostro tavolo!
Addio per ora i miei amici,
Suz
You can purchase high-resolution photos of pictures from this blog and other images here. They make great kitchen decor and gifts. Also, the notecards are great for sharing recipes! More added every week.
Thru The Bugs On My Windshield by V. Suzanne Collier is licensed under a Creative Commons Attribution-Noncommercial-Share Alike 3.0 United States License.
Based on a work at www.txcolliers.smugmug.com/Lifes-Highway.