MM had wanted a motorcycle for years. Twenty-two years of our marriage (to be exact) before I gave in.
I was never much of a motorbike kind of gal. Now, my dad loved to fix up old Cushman Scooters and sell them. But not before we went on a few short rides up and down the street. I also sat on a friend's chopper when I was in high school for this photo. Thank you, Roy Dale, for sharing this pic with me after all these years.
That's the back end of my 1964 1/2 Ford Mustang on the right.
Yep, my Dad loved cars as much as I do. SWEET! Wish I still had it.
MM had a 1979 Kawasaki 750 when we got married that stayed at his dad's workshop in New Mexico. When we would go visit his parents, he would take me for rides up into the mountains.

But that was the extent of my motorcycle riding experience.
So, pretty much nada.
Until the ripe ol' age of 48.
You see, after I gave in to his obsessive-compulsive, sad-puppy-dog-eyes pleas for a Honda Goldwing, I rode in the "Lazy-Girl Seat" on the back for about a year. Even fell asleep a couple of times and read a few books. Serious.

MM kept telling me I should take the Motorcycle Safety Foundation Course and learn to ride, just in case I ever needed to "drive" the Goldwing. YIKES!
Finally, I relented to the power of persuasion and thought, from a safety standpoint, maybe I should learn to ride. I reasoned that it would make me a better rider and, most probably, a better and safer car driver, too. Those would all prove to be true. I would now suggest that everyone take the MSF Course. You WILL become a more aware of motorcycles, other vehicles and safer driver of an automobile, I guarantee!
Keep in mind I had NEVER "ridden my own". Ever.
Sitting on one to pose for that picture up there was as close as I ever got. Until 2004. Man, did that ever change things. This would have been a much easier learning process at the age of 18 rather than 48. But, I can't change history.
The MSF Course is over a weekend, twelve hours on Saturday and twelve full hours on Sunday.
I passed! Out of a class of twelve, one hot-shot dirtbike rider was failed. It was nice to know they didn't give everyone a carte blanche pass.
Within a week, I bought my own. I LOVED this bike!

However, now I wanted to ride the country and this little Yamaha wasn't quite enough bike for that. So, four months and 1,000 miles later, I bought a bigger one – 850 pounds of solid steel horse. Giddy-up, Buttercup!

We have ridden from Dallas to Bar Harbor, Maine. To the northern California and the Oregon Coast. To the Grand Canyon on several occasions. To Yellowstone National Park. To Tennessee for lunch one weekend. Yep, Texas to eastern Tennessee – 678 miles on the first day and finished up another 200 miles the next day and got there in time for lunch! And much, much more. I actually have over 45,000 miles on my bike! I really never thought I would say that.
But before all of that, MM felt I needed a maiden voyage. You see, we made plans to meet up with some motorcycle friends, Jon and Bill, and ride around in Colorado with them one summer. So, before I totally embarrassed myself in front of others, we went on a ride through New Mexico and through the White Mountains of eastern Arizona, down The Devil's Highway. Highway 191, formerly know as Highway 666. I'm not kidding.
That was my first experience with hairpin curves and "sweepers" – long curves that make you feel as if you are riding the wind.
On our way back home, one of our last stops was in Las Cruces, New Mexico. There was all kinds of good food in New Mexico and La Posta was no exception. The food was outstanding, but the dessert was heavenly! I had never tasted any little morsel that pleased my palate more. MM and I talked about those apricot empanadas all the way home.

In fact, they were so good that we named that ride after them. The Empanada Run. It was as if we had ridden all those miles JUST for those apricot empanadas.
And we still talk about them.
Besides, when you ride a Honda, the motto is "Ride to Eat and Eat to Ride". And NEVER pass up a Texas Stop Sign!

After seeing the empanada recipes that my friend Jane, The Heritage Cook, posted on her blog the other day, I couldn't help myself. I had to try and re-create those delectable little pies. (BTW, Jane lives in San Francisco . . . GO RANGERS!)
These did not disappoint! The crust is tender and nicely sweet but not overly so. And the filling is a delight with the flavors of the vanilla, cinnamon and ginger mixing to perfection with the apricots!

Apricot Empanadas
Filling
2 bags of dried apricots
2 cups water
2 4" cinnamon sticks
1 vanilla bean, sliced down the middle on one side to open
1 tsp grated fresh ginger
In a medium saucepan combine all ingredients. Bring to a boil, then simmer for about 30 minutes, or until the apricots are soft. Check the water level frequently to ensure that the apricots don't run dry. Most of the water will be used for reconstituting the apricots so they shouldn't be watery after cooking. When soft, mash apricots with a fork or place in food processor and pulse a few times to mash the apricots.
Empanada Sweet Dough
3 cups all purpose flour
¼ cup sugar
¼ tsp salt
2 sticks unsalted butter or 16 Tbsp, cut into 16 pieces
2 eggs
3 Tbsp cold water (get out a little bowl, fill with ice and then fill with water to get it nice and cold)
Powdered cinnamon and granulated sugar mix for sprinkling the empanadas
3 Tbsp of granulated white sugar
½ to 1 tsp powdered cinnamon
Stir together.
Preparation
Preheat oven to 350 degrees.
Mix the flour, sugar and salt in a food processor.
Add the butter one tablespoon at a time. After 8 tablespoons of butter have been added, add one egg. Add remaining butter one tablespoon at a time, then add 2nd egg and water until a clumpy dough forms.
Knead the dough for a few minutes on work surface covered with parchment paper.
Form dough into 2 balls, flatten into thick discs, and, using parchment paper to wrap and separate the disks, place in a baggie, seal, and chill in the refrigerator for at least 30 minutes.
Roll out the dough into a thin sheet between pieces of parchment paper, 1/4" thick or so, and cut out round disc shapes for empanadas using a round mold about 4"-5" across. I used a lid from a large jar of peanut butter.
Fill each with about one teaspoon of filling. Don't overfill.
Fold over and secure edges with fork tines. Be careful not to mash too hard.
If the dough gets to soft, return to the refrigerator for a few more minutes to firm dough.
Using a spatula, move empanada from work surface to parchment covered cookie sheet. Again, if dough has become too soft, place another cookie sheet under the parchment paper on your work surface and place in the refrigerator for a few minutes until the dough becomes firm enough to handle.
Sprinkle top of empanadas with a mix of powdered cinnamon and sugar.
Place empanadas in oven and bake for 25 minutes.
Use the empanada dough immediately or store in the refrigerator or freezer for later use.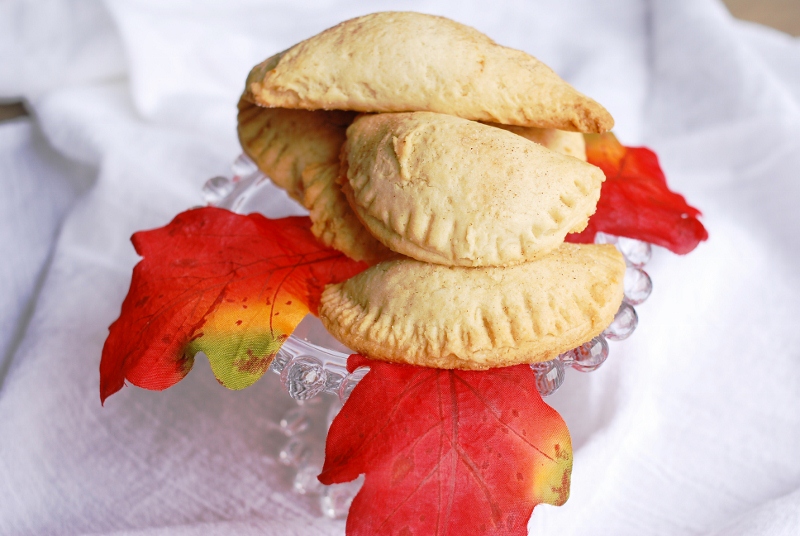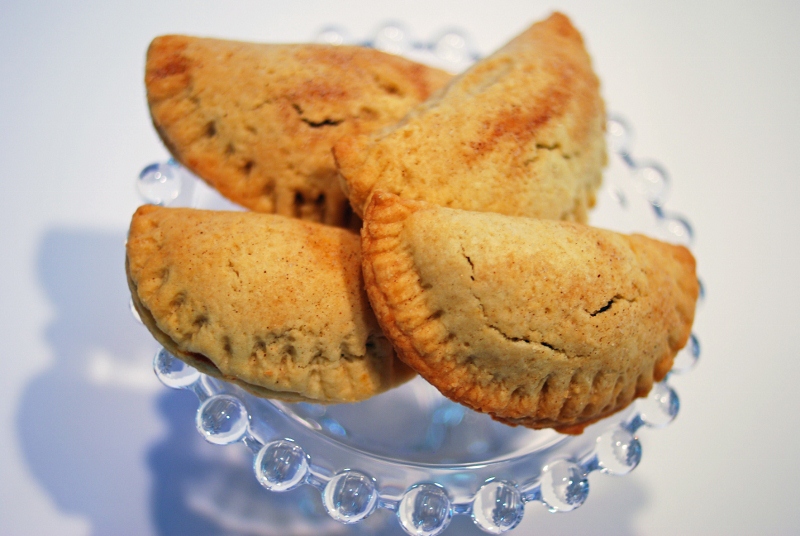 Now, you too, can have your very own Empanada Run – with or without an Iron Horse!
Hi, Ho, Silver! Away!
Suz
You can purchase high-resolution photos of pictures from this blog and other images here. They make great kitchen decor and gifts. Also, the notecards are great for sharing recipes! More added every week. Being updated as we speak!
Thru The Bugs On My Windshield by V. Suzanne Collier is licensed under a Creative Commons Attribution-Noncommercial-Share Alike 3.0 United States License.
Based on a work at www.txcolliers.smugmug.com/Lifes-Highway.